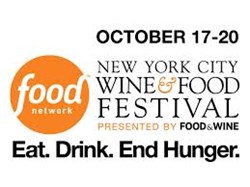 Kimchi captured headlines and greater interest from all over the world in early 2013 when Michelle Obama shared her very own Kimchi recipe via Twitter.
New York, NY (PRWEB) September 30, 2013
The Grand Tasting event of the 2013 New York City Wine & Food Festival is a charity tasting event that showcases the culinary talents of renowned chefs. This year's Grand Tasting appears to have a greater emphasis on cultural diversity and international cuisines. The Korean Food Foundation is expected to expand on the Korean government endorsed, Hansik Globalization project by introducing fermentation foods and techniques of Korea to a broader audience at the tasting event. Korea's most iconic dish, Kimchi, will be the main talking point for visitors, as a Korean Food Foundation sponsored booth at Grand Tasting 2013 will exemplify the art of fermentation and the friendly flavor of Kimchi.
Julia Moskin of the New York Times, hinted in her "Dining and Wine" article, that Kimchi and fermentation would become top trending food interests of 2013. She would go on to mention that restaurants are beginning to adopt new cuisines by stating "pickling is baby steps; fermentation is where it's at. Your peers are contemplating long-term bacterial activity like year-old Kimchi." In cities like New York, chefs are beginning to introduce new fusion foods utilizing Kimchi as an ingredient while, restaurant goers are gaining familiarity with dining at Korean restaurants. Food enthusiasts and chefs will be able gain a first-hand experience of how Kimchi is produced and the relevant skills of executing a successful fermentation.
Kimchi captured headlines and greater interest from all over the world in early 2013 when Michelle Obama shared her very own Kimchi recipe via Twitter. The First Lady of the United States tweeted: "Last week, we picked Napa cabbage in the garden. Now we're using it to make Kimchi in the kitchen. Make it at home." while posting pictures of her jarred Kimchi. As the leading figure of the "Let's Move" campaign, Michelle Obama is influencing Americans to combat obesity while raising awareness of practicing healthier diets. Kimchi is finding its way onto the tables of more American households and restaurants, as westerners are becoming accustomed to the unique flavor and health benefits associated with the fermented food.
As a contributor of the Hansik Globalization project, the Korean Food Foundation is participating in the Grand Tasting event to highlight the unique taste and experience of Korean food by utilizing fermentation as a representative agent. Fermented foods have long been a specialty of the Korean peninsula and dishes such as Kimchi, are the culinary gems produced from an extensive history of artisanship.
Historically, fermented foods have been an integral element of Korea's development as a nation. The country of Korea is known to have a very cold climate while having mostly mountainous land with few fertile plains. The Korean peninsula adopted an agricultural culture accordingly by developing an early form of zymology which aided the preservation and consumption of salted vegetables. The Koguryeo civilization (one of the ancient Three Kingdoms of Korea) became highly adept in developing fermentation which as a result produced foods such as soybean paste and an early relative of Kimchi that omitted the use of spices (red pepper was not an indigenous crop of Asia). After the successful Joseon Dynasty in Korea (1392-1910) and increased cultural diffusion, the modern form of Kimchi was developed along with over 90 other variations.
The Korean Food Foundation's booth in Grand Tasting will provide a demonstration of how Kimchi is prepared while displaying the fermentation process and necessary techniques to produce the cultivated taste of the dish. Kimchi is typically produced with main ingredients such as napa cabbage, radish, garlic and red chili pepper flakes. The ingredients are stored in a Korean clay pot called Onggi which has a microporous nanotechnology to assist the flavoring and lactic acid fermentation of the resulting Kimchi. Upon magnification, the size of each pore on the Onggi surface is around 1-20 micrometer (um) in order to allow the entrance of oxidation (0.000022 um) without being exposed to water molecules (2,000 um). Furthermore, the clay pot has properties such as biodegradability, rotproofness and vertebration which are all critical elements for storing Kimchi for a prolonged period.
Chef de Cuisine Deuki Hong will be joining the Grand Tasting event as an ambassador of the Korean Food Foundation's efforts to promote Korean cuisine. Chef Hong's Kimchi Dubu dish will be the signature dish symbolizing Korean fermentation. The Grand Tasting portion of the 2013 New York City Wine & Food Festival will take place on October 18-20, 2013 at the Pier 94.