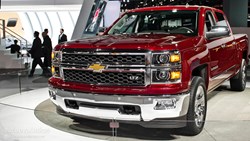 2014 Silverado starting at $23,590 MSRP now available at New Rochelle Chevrolet.
(PRWEB) September 30, 2013
In a consistent evolving truck market, the all-new 2014 Chevrolet Silverado is the best of its class. Recent sales show that the demand for Chevrolet Silverado trucks are simply growing, the only question is why? With gas prices like this one would think the only place trucks are evolving is extinct; however, this now more luxurious Silverado is not only priced way lower than its competitors, but it is also more fuel efficient. With gas prices' soaring in only one direction the smarter way to invest is with more fuel efficient vehicles. The 2014 Chevy Silverado features a new standard 4.3 liter EcoTec V6 engine. Most truck owners are concerned with putting less gas in their tank and having to sacrifice how hard their truck can work. Not to worry! This new truck is not only budget-friendly, but it gets the job done. That's exactly what the engineers and designers focused on when building the new 2014 Silverado. With almost 300 in horsepower, 305 lb-ft of torque regardless of cab configuration, and its promising towing capacity; the new truck holds Silverado's trusted reputation.Whether it's the regular, extended, or crew cab model, the new appearance on the Chevrolet Silverado almost puts this truck into a luxury vehicle category. After a hard day at work this truck not only deserves a night on the town, but it is more than suitable for the occasion. General Motors is now offering a bumper to bumper warranty for 3 years or 36,000 miles as well as powertrain warranty for 5 years or 100,000 miles. New York Chevrolet dealers such as New Rochelle Chevrolet carries one of the largest inventory of 2014 Silverado trucks starting at $23,590 MSRP. The launch of their new Chevy Truck Center was inspired by the 2014 Chevrolet Silverado.