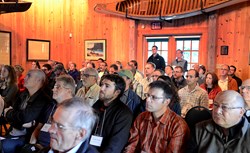 We wanted to give our participants the chance to share their stories of what worked for them and what didn't, so that others could benefit from their experiences.
St. Andrews, New Brunswick (PRWEB) September 30, 2013
An international workshop hosted by the Atlantic Salmon Federation (ASF) from September 18 to 19 in St. Andrews, N.B. is proving to be an important step forward for the recovery of wild Atlantic salmon across their range. Entitled 'What works? A Workshop on Wild Atlantic salmon Recovery Programs', the two-day event brought together over 100 participants from the United States, Canada, France, Netherlands and the United Kingdom to share and review current conservation programs for wild Atlantic salmon.
In addition to the scientists, conservationists and First Nations people who were on-site, additional participants gained access to all presentations and discussions through live streaming of the workshop's proceedings.
Jonathon Carr, ASF's Director of Research and Environment, said "There is so much work currently being done to conserve and restore wild Atlantic salmon runs, but so few opportunities exist to get together and talk about who's doing what. We wanted to give our participants the chance to share their stories of what worked for them and what didn't, so that others could benefit from their experiences."
Topics discussed at the workshop included live gene banking and stocking techniques, habitat recovery initiatives, dams and fish passage options, and water quality considerations. A broad range of case studies were presented from a variety of watersheds, which highlighted both successes and failures of current recovery strategies.
One of the most important recommendations stemming from the workshop is the need to apply an "ecosystem approach" to salmon conservation, which considers the recovery of a river system as a whole, not just one species. This is the concept that has guided the restoration of the Penobscot River in Maine, which, through dam removal and by-pass, is in the process of opening up 1000 miles of river habitat to eleven species of sea-run fish, including Atlantic salmon.
Carr also highlights the need to address low marine survival among North America's wild Atlantic salmon populations, but cautions that poor marine survival is not a reason to abandon freshwater actions.
A recent scientific study published in Climate Change Biology (Mills et al., 2013) suggests that climate warming and a changing ocean environment may have caused reduced salmon survival at sea.
"Marine mortality is considered to be one of the most limiting factors for salmon recovery right now. However, we still need to do everything we can in their freshwater habitat, so that when this trend of low marine survival is reversed, our fish have a place to spawn and raise the next generation," said Mr. Carr.
Findings from the workshop are being synthesized into a report for those interested in starting or updating a recovery program for wild Atlantic salmon. "Our goal is to create a set of recommendations on appropriate recovery strategies for Atlantic salmon based on the knowledge shared at this workshop," concluded Mr. Carr.
He anticipates that the final report and a full set of guidelines for Atlantic salmon recovery planning will be available in spring, 2014. Abstracts and PDFs of the presentations are available through the ASF website.