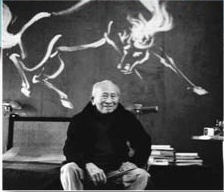 We're interested in seeing the production of the film, "Brushstrokes in Hollywood" completed while Tyrus Wong is still living.
Wheaton, Maryland (PRWEB) November 12, 2013
Hollywood East Café will host a Dinner and Dance on November 23, 2013 to help promote the making of a documentary film, titled: "Brushstrokes in Hollywood." The benefit will enable the completion and marketing of the film, honoring the life of Tyrus Wong, who is now 103 years old and residing in Los Angeles, California. Promoters are interested in seeing the production of the film completed while Tyrus Wong is living, so that he can enjoy the spotlight on his life.
The film captures the work of legendary Chinese American painter, Tyrus Wong. The film explores his life as a Chinese American painter, concept artist, motion picture product illustrator and kite builder. Wong is best known for his work on Walt Disney's feature animated film, "Bambi." His strikingly beautiful concept paintings and sketches continue to influence generations of animation artists and designers.
Wong is noted for his artwork and calligraphy. In 1948, Wong had an idea and submitted concept suggestions to Walt Disney. As a result, Disney selected Wong to create the artwork for the production of "Bambi."
The fundraiser is scheduled for November 23 from 6 pm – 11 pm in Wheaton Maryland. The fundraiser features a 10 course Chinese Banquet Dinner, followed by dancing to the music of the Wickerlee Band. Interested parties can get more information and register for the event at brushstrokes.eventbrite.com. Hollywood East Café is located at 11160 Veirs Mill Road, Wheaton, Maryland in the Westfield Wheaton Shopping Center. The dinner & dance ticket is $38 (with $10 being tax deductible). The dance only ticket is $20 (with $15 being tax deductible). Tickets are available until November 21. After that date, ticket prices increase and can be purchased by calling Hollywood East Care at 240-290-9988.
For more information on Tyrus Wong, please go to: http://www.tyruswongthemovie.com/about.htm.