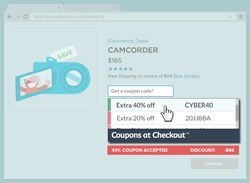 "US consumers, especially Milliennials, have come to expect discounts every time they shop. With more mobile and browser app usage, we're seeing a definitely shift toward the power-shopper generation."
Madison, NJ (PRWEB) December 06, 2013
This past Cyber Monday was the biggest e-commerce day in history thanks to bargain-hunting shoppers, according to data from IBM Digital Analytics Benchmark.
Today CouponFollow released statistics about the usage of its popular Coupons at Checkout browser extension, an app which uncovers coupon codes automatically, during Cyber Monday.
CouponFollow estimates the extension saved users tens of thousands of dollars on Cyber Monday. Shoppers were also able to find coupon codes over three times faster than by using a traditional web search engine, such as Google. "We were humbled to learn about one user who saved $1,540 on their Sears purchase. It's exciting to know we are helping facilitate such savings, in both money and time" stated founder Marc Mezzacca.
A large number of shoppers using the extension were Milliennials. About one-third (32%) of all users ranged from ages 25 to 34, and 53% were female. "US consumers, especially Milliennials, have come to expect discounts with every purchase. With increased mobile and browser app availability and usage, we're seeing a definite shift toward the power-shopper generation" added Mezzacca.
Popular websites where shoppers scored big savings with the extension included Kohls, Macy's, Forever 21, Express, and Sears, among many others. "On Cyber Monday retailers across all verticals get involved by offering above-average discounts, but fashion, tech, and department stores are extremely popular ones" noted Mezzacca.
Coupons at Checkout also helped retailers to reach sales levels on Cyber Monday by ensuring consumers finalized their purchases. "Not needing to leave a retailer's site to search for coupon codes, shoppers are kept engaged with our extension installed. We're helping avoid potential shopping cart abandonment issues" stated Mezzacca.
Coupons at Checkout was used on over 3,500 different e-commerce stores worldwide on December 2nd. The extension was used primarily in the US, but also reached other countries such as the UK, Canada, Australia, France, and Russia.
For more information, statistics, or media inquiries contact press (at) couponfollow (dot) com.
Further information on Coupons at Checkout may be found by visiting the web site at http://couponfollow.com/checkout
Coupons at Checkout is a product of CouponFollow, LLC.
About CouponFollow, LLC.
CouponFollow is a social media based coupon code directory and search engine which monitors social buzz for new and trending coupon codes.