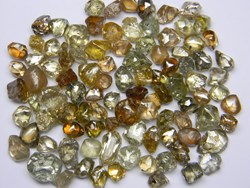 Deerfield Beach, Florida (PRWEB) December 04, 2013
On Monday, The American Institute of Diamond Cutting, Inc., a leader in the education of rough diamonds, diamond cutting and polishing, and diamond business management, auctioned their first parcel of rough diamonds to a private buyer. The lot consisted of two rough, colorless diamonds totaling 4.50 Carats.
The Auction was designed to be a transparent platform for dealers, private individuals, and investors to purchase rough diamonds without fear of fraud, lack of quality or hazardous travel to remote corners of the world. After becoming a member, buyers can bid online at http://www.aidcauctions.com. AIDC auctions is hosted in an online format with all bids taking place in real time. All bids must be placed by the specified deadline to be counted for that auction.
AIDC Auctions provides buyers with a unique platform to buy diamonds at cash prices. Our professional team consolidates diamonds from suppliers around the globe motivated to sell for fair cash market prices that would normally not be available for purchase to the average person. Our auctions provide consistent opportunities to purchase large quantities and a wide variety of diamonds at fair market prices.
The American Institute of Diamond Cutting, Inc. is the only school licensed by the state and federal government to teach diamond cutting in the U.S. They are also V.A. and Immigration approved. AIDC has been serving the diamond industry for over 34 years. Their director, Nizam Peters, has written some of the first books on rough diamonds and diamond inclusions in the industry.
AIDC has two parcels available for preview on their website and will be holding an auction this Friday, December 6th consisting of 39 spectacular colorless rough diamonds ranging in size, clarity, and color totaling 82.22 carats. On Tuesday, December 10th AIDC will be auctioning a beautiful, rare collection of 97 green, yellow, brown, and orange colored rough diamonds totaling 253.30 carats. AIDC Auctions will be hosting 2-3 auctions per month and is currently accepting new memberships of hopeful buyers as well as appointments to view the parcels at their Deerfield Beach location before the auction date.
To view the upcoming lots please click here.