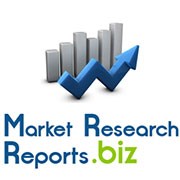 Albany, NY (PRWEB) August 04, 2013
TechNavio's analysts forecast the Field Programmable Gate Array (FPGA) market in the Global Telecom industry to grow at a CAGR of 9.1 percent over the period 2012-2016. One of the key factors contributing to this market growth is the unlimited demand for bandwidth in wireless networks. The FPGA Market in the Global Telecom industry has also been witnessing an increased preference for greener technology. However, divestment from FPGA technology by major customers could pose a challenge to the growth of this market.
To check out the complete table of contents, visit: http://www.marketresearchreports.biz/analysis-details/fpga-market-in-global-telecom-industry-2012-2016.
TechNavio's report, the FPGA Market in Global Telecom Industry 2012-2016, has been prepared based on an in-depth market analysis with inputs from industry experts. The report covers the FPGA market in the Global Telecom industry landscape and its growth prospects in the coming years. The report also includes a discussion of the key vendors operating in this market.
The key vendors dominating this space include Altera Corp., Lattice Semiconductor Corp., Microsemi Corp., and Xilinx Inc.
The other vendors mentioned in this report are Applied Micro Circuits Corp., Ericsson A.B., Huawei Technologies Co. Ltd., and Taiwan Semiconductor Manufacturing Company Ltd.
Browse All Reports of This Category Visit - http://www.marketresearchreports.biz/category/96.
Key questions answered in this report:
What will the market size be in 2016 and what will be the growth rate?
What are key market trends?
What is driving this market?
What are the challenges to market growth?
Who are the key vendors in this market space?
What are the market opportunities and threats faced by key vendors?
What are the strengths and weaknesses of each of these key vendors?
Browse All The Report Of This Publisher Visit: http://www.marketresearchreports.biz/publisher/73.
TABLE OF CONTENT
1. Executive Summary
2. List of Abbreviations
3. Introduction
4. Market Research Methodology
Market Research Process
Research Design
Research Methodology
5. Scope of the Report
Market Overview
Product Offerings
6. Market Landscape
6.1 Market Size and Forecast
6.2 Five Forces Analysis
7. Geographical Segmentation
8. Key Leading Markets
APAC
Europe
North America
9. Vendor Landscape
10. Buying Criteria
11. Market Growth Drivers
12. Drivers and their Impact
13. Market Challenges
14. Impact of Drivers and Challenges
To Buy The Copy of This Report Visit: http://www.marketresearchreports.biz/analysis/172397.
15. Market Trends
16. Key Vendor Analysis
16.1 Altera Corp.
Business Overview
Key Information
SWOT Analysis
16.2 Lattice Semiconductor Corp.
Business Overview
Key Information
SWOT Analysis
16.3 Microsemi Corp.
Business Overview
Key Information
SWOT Analysis
16.4 Xilinx Inc.
Business Overview
Key Information
SWOT Analysis
17. Other Reports in this Series
Exhibit 1: Market Research Methodology
Exhibit 2: Programmable Market Segments
Exhibit 3: Common FPGA Applications
Exhibit 4: Global Market for FPGA in Telecom Industry (US$ billion)
Exhibit 5: Global FPGA Market by Customer Segmentation 2012
Exhibit 6: FPGA Market in Global Telecom Industry by Geographical Segmentation 2012
Exhibit 7: Global FPGA Vendor Share in Telecom Industry 2012
Exhibit 8: Time to Market: Design Cycle
Exhibit 9: FPGA Design Benefits
Exhibit 10: Heterogeneous Network
Exhibit 11: Network Coverage Scenarios
Exhibit 12: Benefits of ASIC Designs
Exhibit 13: ASICs versus FPGAs
Exhibit 14: Base Station Network Evolution
Exhibit 15: Altera FPGA Product Series
Exhibit 16: Lattice Semiconductor Corp.: Focus Market Segments
Exhibit 17: Microsemi FPGA Product-Line
Exhibit 18: Xilinx FPGA Product Series
Contact US
Tel: +1-518-618-1030
USA – Canada Toll Free: 866-997-4948
Website: http://www.marketresearchreports.biz/
Blog - http://businessindustryreports.wordpress.com/