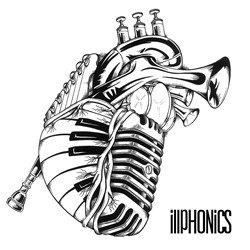 "...a band showcasing the evolution of hip-hop." - Kevin Johnson, St. Louis Post-Dispatch
Saint Louis, MO (PRWEB) July 23, 2013
iLLPHONiCS are progenitors of their own blend of funk, hip-hop, soul, and a barrage of other unique psychedelic sounds. The new album, 'iLLPHONiCS', follows a pair of EPs, 'Illusion' and 'Reality: Check', both initially released as free downloads in 2010 and 2012, respectively. The new album will be available for purchase through their official website, illphonics.net, or through standard online outlets like iTunes and Napster. Physical CDs and limited edition floppy-disk download cards will be available at Vintage Vinyl and Cicero's later that day.
~THE EVENTS~
To promote the new release, iLLPHONiCS have confirmed a couple of high-profile appearances on the same day the album is available, July 26. First, they'll appear on Fox 2 News with Tim Ezell (KTVI-St. Louis) at 9:00 AM. In addition to an on-air performance, iLLPHONiCS will be talking about the exciting events happening later that day and telling St. Louis-area viewers how they can get their hands on the new album.
CDs and limited edition floppy-disk download cards will be for sale at Vintage Vinyl (6610 Delmar in the University City Loop), starting at 6:30 PM, when the iLLPHONiCS Listening Party begins. It is a free event, and fans will be able to hear the new album on a great sound system and enjoy drinks provided by Schlafly and Nawgan.
The official album release show is at 8:00 PM that night just down the street at Cicero's (6691 Delmar). The show features up-and-coming Windy City rapper KiDD the Chicagoan, as well as Nite Owl, Kavo Corleone, and 42oh. iLLPHONiCS hits the stage around 11:00 PM. The show is all-ages with a cover charge of $10.
~THE ALBUM~
'iLLPHONiCS' will showcase a major step forward for the band's evolutionary sound. It is their most ambitious release to date, adopting a number of different tones throughout its fourteen songs. In addition to the "melodic, staccato rhyme-spitting" (Calvin Cox, Riverfront Times) of iLLPHONiCS emcee, Fallout Morris, band members Keith Moore, Chaz Brew, and Kevin Koehler step up to the microphone for the first time. Guest appearances abound as well; there are a number of vocal and instrumental features who each add his or her distinct flavor to the mix. Among the instrumentalists featured on the album are Riverfront Times "Best Jazz Artist of 2013," Lamar Harris (horns), former S Five drummer, Andrew Gibson (percussion), and Dawn Weber, of the Electro Funk Assembly (trumpet).
Two of St. Louis's brightest female artists, Tiffany Elle and Syna So Pro, appear on vocals. Ms. Elle adds her sensuous, soulful voice to "The Pinnacle", "Sundown", and "Wherever You Wanna Go". Syna So Pro, one of the Riverfront Times' "Seven Local Artists to Watch in 2013", brings her infectious multi-layered approach to "Fly Home."
'iLLPHONiCS' also boasts strategic rap features on two songs. St. Louis rising star Thelonius Kryptonite is featured on "Mound City March", serving up a history of art and music in St. Louis, and New York rapper Gotham Green is featured on "Wherever You Wanna Go", recalling the hardships of growing up poor and looking forward to brighter pastures.
The new album is sure to keep listeners guessing from track to track. Every member of the band brings something unique to the table, drawing inspiration from soul and jazz, to pop and even Latin styles. The entire recording process was a new experience for the band, as well. iLLPHONiCS utilized a DIY mentality on their previous two releases, producing and engineering everything themselves. For the new album, however, the band chose to work with Justin L. Fisher at Smith-Lee Productions in Maplewood, Mo. It was a change of pace the band felt it needed, allowing its members to focus on the creation and performance of the compositions.
Referring to Smith-Lee, iLLPHONiCS frontman and emcee, Fallout Morris, explains, "We felt that the only way we would capture the energy of a huge production was to go and create our album in a place with a legacy of doing just that. It's the sum of our growth as artists and as individuals, so I'm ecstatic to share it with the world."
If you would like to review the new album, please e-mail illphonics(at)gmail(dot)com for a free download link. For more information or to schedule an interview, contact Kevin Koehler via telephone (314.952.1088) or e-mail (illphonics(at)gmail(dot)com).
ABOUT iLLPHONiCS
iLLPHONiCS has been recording and performing around the St. Louis area since 2006. They have shared the stage with artists such as the Roots, Lupe Fiasco, and RJD2, and they broke into the national festival scene in 2011, with performances at Wakarusa and South By Southwest.
Watch their new video for the first single from the album, "Your Body", on YouTube.