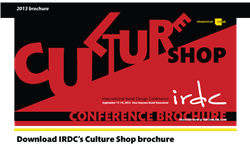 But most IRDC attendees are from large-scale, U.S.-based retail brands or design firms.
Cincinnati, OH (PRWEB) July 24, 2013
Store designers for Kroger, Limited Brands, Starbucks, Target, TJX Companies, Walgreens and Whole Foods Market are among the early registrants for VMSD magazine's 2013 International Retail Design Conference (IRDC) in Vancouver, British Columbia, September 17-19.
Held annually since 2000, the conference typically draws 300+ retail designers from throughout North America and more than a dozen countries worldwide, including Australia, Finland, Germany, India, Indonesia, Netherlands, Sweden, United Kingdom and Venezuela.
But most IRDC attendees are from large-scale, U.S.-based retail brands or design firms, says Patricia Sheehan, IRDC Conference Chair and Editor in Chief, VMSD. "Many of those brands are currently looking to outside markets such as Canada, India and China for expansion, which is one reason we're taking the conference to Vancouver this year," Duccilli said. "Attendees will be able to experience the Canadian marketplace firsthand—and glean insights from peers who've recently set up shop there."
The Culture Shop-themed program features lululemon athletica's Amanda Casgar on building community engagement; Microsoft's Florin Gale on creating tech-rich experiences in retail; Leendert Tange, of Amsterdam-based retail design agency Storeage, on the unique trends shaping Chinese retail in the years ahead; Ontario-based retail consultant Lora Tisi on crafting successful retail strategies for the Canadian market; and Prophet Brand Strategy's Peter Dixon on adapting retail brands for international markets.
Lunchtime roundtable discussions, networking breakfasts, an off-site IRDC Party and guided tours of Vancouver retail complete the three-day program.
Registration is underway at irdconline.com, with early-registration discounts in place through July 31, 2013.
ABOUT VMSD
Cincinnati-based VMSD (Visual Merchandising + Store Design) is the leading magazine for retail designers and store display professionals, serving the retail industry since 1922. Every month, VMSD showcases the latest store designs and visual displays, presents merchandising strategies and new products, and reports on industry news and events. Learn more at vmsd.com.
ABOUT IRDC
Now in its 13th year, the International Retail Design Conference (IRDC) is the premier educational and networking event for the store design and visual merchandising community. Presented by VMSD magazine, IRDC combines educational sessions, roundtable discussions, case studies and networking events into three productive days, drawing 300+ attendees from the U.S. and abroad. Learn more at irdconline.com.