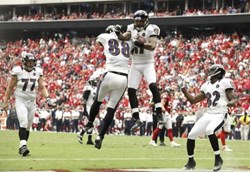 Baltimore, Maryland (PRWEB) August 21, 2013
The Baltimore Ravens are off to a good start for the 2013 season as they are 2 for 2 in the preseason. In their first game, the Ravens destroyed the Tampa Bay Buccaneers 44-16. Their next game was August 15th, when they beat the Atlanta Falcons 27-23. The Ravens did not meet the Falcons last year, but they almost did in the Super Bowl. The Ravens will finish their preseason with games against the Carolina Panthers and the St. Louis Rams, and then start their 2013 season against the Denver Broncos. Tickets for these games can be found and purchased at http://www.Ravenstickets.com.
In the Ravens win against the Falcons, the team came from behind by 16 points to rally and win the game by 4. The Falcons had lost their previous preseason game against the Bengals 34-10, but came back impressively against the Ravens. Ravens star quarterback Joe Flacco played the first half against the Falcons, where he completed 7 of 9 passes for 118 yards, including one 77-yard touchdown pass. The preseason is not always a good telling of how the regular season will go for a team, but Flacco and the rest of the Ravens are hoping this year it is. The Ravens won the Super Bowl last season, and are hoping to get back to the championship game again. Important games for the Ravens this year will be against the Texans on September 22nd, the Bengals on November 10th, and the Patriots on December 22nd. As of now, all of these teams and more have a great chance of going all the way. At http://www.Ravenstickets.com, you can buy tickets to Ravens games, and read the active Ravens blog to see who will make it to the end. Fans that visit the site can also use the Ravens media hub to interact with other fans. Follow us on Facebook, Twitter, or even Google+. http://www.Ravenstickets.com can offer the lowest prices on the web, because customers will never be charged any extra service fees. The price you see is the price you pay, from start to finish. Visit the site now to find yourself at a game at M & T Bank stadium and watch the Ravens conquer the AFC North.