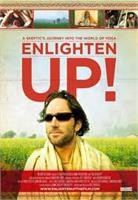 "This is going to be a great event," said YogaSoul instructor Britt Johnsen. "It's an awesome film and a fun way to spend time with fellow yogis and community members."
Eagan, Minnesota (PRWEB) August 14, 2013
YogaSoul is offering a new donation-based event involving movies, food and friends.
Spiritual Cinema Night will take place for the first time at 7 p.m. on Aug. 24. We'll gathering, huddling around a TV in the studio and watching a movie while eating snacks. We'll be watching, "Enlighten Up!" This documentary follows a New York City journalist who is skeptical about yoga but immerses himself in the practice upon the urging of a documentarian. The film explores the transformative power of yoga, as well as this skeptic's remaining questions about this ancient tradition.
This is a donation-based event; all proceeds go to the YogaSoul Teacher Training Fund.
"This is going to be a great event," said YogaSoul instructor Britt Johnsen. "It's an awesome film and a fun way to spend time with fellow yogis and community members."
YogaSoul's mission is to help clients win the battle against stress. It has an extensive class offering in several styles of yoga, including Kundalini, Hatha, Yin, and Vinyasa. It boasts a fully equipped Pilates studio and offers many kinds of classes, including Zumba, Tai Chi and belly dancing. Its full roster of teachers and healers provide clients with a variety of healing services, including intuitive readings, Reiki, Thai yoga bodywork, Ayurveda, energy work and several others. YogaSoul also hosts special workshops and Kundalini yoga teacher trainings.
To see a full schedule, make an appointment with a healer or sign up for a class, visit YogaSoul's website, http://yogasoul-center.com/. New students get their first week of classes free.