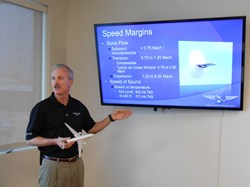 Simulator-only instruction provides a learning environment that is appropriate to pilots of transport category aircraft with assured safety and risk mitigation provided through ground-based high-fidelity flight simulation
Mesa, AZ (PRWEB) July 30, 2013
Dallas, Texas (PRWEB) July 30, 2013 - The newest operating location for Aviation Performance Solutions LLC (APS) is now qualified to deliver simulator-only training in Upset Prevention and Recovery Training (UPRT). This advanced flight training goes above and beyond existing initial and recurrent pilot qualifications to provide training targeted at reducing the number one threat to aviation safety worldwide, Loss of Control In-flight (LOC-I). Training is provided using CAE Dallas flight simulation training devices at the largest business jet Training Center in the world, located at the Dallas-Ft. Worth International Airport (DFW).
Providing Airplane Upset Prevention and Recovery Training (UPRT) in the simulator-only environment must be done with great care to remain within the valid training envelope of the flight simulator. Highly experienced APS instructors are uniquely trained, standardized and quality-assured to deliver this specialized instruction in both real aircraft and high fidelity Level D full flight simulators. All APS instruction is done in full compliance with the Airplane Upset Recovery Training Aid (AURTA), an industry-endorsed commercial flight training resource that provides strict guidance on the proper and positively-transferable delivery of UPRT. APS instructor expertise and strict compliance with industry guidance, minimizes the risk of negative training through the use of techniques applicable to multi-engine turbine aircraft operated in a two-pilot crew environment.
"We are extremely excited to be able to offer this additional service to our APS clients. Being located in the Dallas metroplex in close proximity to the area's commercial and business jet pilot training centers makes this an excellent option for clients when considering an upset prevention and recovery training program." said Randall Brooks, the APS Vice President of Training and Business Development.
The academic and practical training recommended in recently released FAA Advisory Circular (AC) 61-138 specific to stall and upset prevention and recovery training are addressed by APS Simulator-Only UPRT. Effectively delivered stall and AURTA-compliant instruction to aircrews mitigates the Loss of Control In-flight (LOC-I) threat to the traveling public. According to a July 2012 report by Boeing, LOC-I is the leading cause of crash-related fatalities in commercial aviation worldwide over the past 10 Years. "Simulator-only instruction provides a learning environment that is appropriate to pilots of transport category aircraft with assured safety and risk mitigation provided through ground-based high-fidelity flight simulation", stated Clarke McNeace, APS Vice President of Flight Training and Standards.
ABOUT AVIATION PERFORMANCE SOLUTIONS LLC (APS)
Aviation Performance Solutions LLC (APS), with headquarters at Phoenix-Mesa Gateway Airport (Mesa, Arizona), has trained thousands of pilots in fully comprehensive upset recovery skill development, more than any other training organization. For two decades, APS has been committed to giving pilots of all experience and skill levels the highest quality upset prevention and recovery training (UPRT) available. APS offers comprehensive Loss of Control In-flight (LOC-I) solutions via industry-leading web-based and iPad-based academic instruction, real piston and jet on-aircraft UPRT, train-the-trainer courses and full flight simulator upset recovery training programs. With locations in the Netherlands, Texas and Arizona, APS is the only Part 141 Flight School currently certified in the delivery of complete upset recovery, stall/spin and instrument recovery training courses. APS upset recovery training courses are each in compliance with the internationally-recognized Airplane Upset Recovery Training Aid - Revision 2 and the recently released FAA Aviation Circular 120-109 on Stall Stick Pusher Training. http://www.apstraining.com