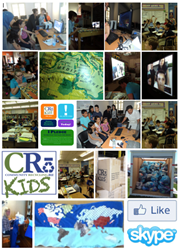 When we can literally see the humanity behind our actions, we can further inspire the part in all of 'us' that wants to connect and repeat these great, green behaviors.
Fairless Hills, PA (PRWEB) August 06, 2013
For many, August weekends mean back-to-school shopping for new clothes that reflect the latest styles and trends in fall sweaters, jeans, shoes, backpacks, and more. According to the National Retail Federation 2013 Back-To-School Survey, nationwide spending for the K-12 sector is anticipated to reach $26.7 billion. Community Recycling wants to let parents, guardians, teachers, coaches and PTO/PTA's all over the US that they have a new clothing recycling solution called CR Kids. This innovative school fundraiser will easily take care of all the overflowing closets and dresser drawers that new school wardrobes will create at home.
CR Kids is not your typical school clothing drive. It's an adventure that is literally delivered in a PODS container, with everything one would need for an incredibly successful collection. Community Recycling has developed fully integrated, fun educational activities that support REUSE, engaging, teaching and enlightening kids as they learn about diverse cultures around the globe where clothes travel. This environmental service project promotes sustainability, geography, social studies, language, and art. The more clothes, bags, belts and shoes collected, the more funds and rewards schools can earn. Rewards include a wall-sized global map made from recycled textiles, badges, gift cards and an iPad for connecting to a sister classroom in the country where the clothes end up. In addition to all these rewards, the schools also earn funds for the amount of clothes they collect to be used at their discretion.
Community Recycling, a for-profit recycler of textiles, holds REUSE at the core of their mission, literally reinventing how people do clothing recycling. The US EPA states that residents throw away 70 pounds of perfectly good, reusable clothes, shoes and other things each year. Creating a program that appeals to the elementary scene forms future ambassadors of the Reuse Movement.
This past spring, CR Kids was piloted in 14 schools from Pennsylvania to Georgia with great success. Various levels of rewards were attained at every school, and one group of third graders hit the crème de la crème! Loesche Elementary School, located in Northeast Philadelphia secured every reward, including the iPad through their successful CR Kids collection. The Loesche students had 30 days to fill their PODS container wall-to-wall-to-ceiling—and they did not stop until every inch of space held beautiful, gently used clothes, footwear, purses, backpacks and accessories.
These ambitious and zealous third graders achieved the true goal of CR Kids: Collect clothes for reuse; connect diverse cultures and in turn make the world feel a little smaller, a little friendlier and a little greener. Community Recycling sent the clothes via container ship to Tunisia, a lesson plan about this African country to the teacher and principal for the students, and scheduled a trip to Tunisia via Skype In the Classroom.
The Tunisian kids from Club First Step, broadcast larger than life on the white board at the head of the class, happily asked the American students about family, school and life here in the states. American students, a bit shy at first, asked their new friends similar things, and if it really looked like Star Wars where they lived?
"When we can literally see the humanity behind our actions, we can further inspire the part in all of 'us' that wants to connect and repeat these great, green behaviors," said Lisa Pomerantz, VP of Marketing and Business Development at Community Recycling. "People Recycling for People is what CR Kids is all about."
###
ABOUT COMMUNITY RECYCLING
Community Recycling is proud to be a for-profit textile recycler with a focus on REUSE. They have flipped the recycling triangle upside down and have mastered the most powerful 'R,' REUSE, with more than 98% of the goods collected destined for REUSE here and around the world. Engaging people in the communities where they live is essential to making the recycling process as convenient as possible. Community Recycling is effectively diverting millions of pounds of clothing, shoes and other secondhand things from landfills, generating new revenue streams for municipalities, townships, boroughs, commercial retail locations, schools, charities, thrifts; and fueling local economies by creating jobs both here and in emerging countries. Visit us at http://www.communityrecycling.biz for more information and please join us as one of our People Recycling for People.