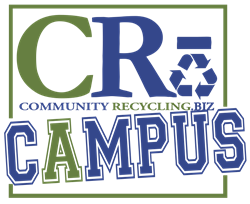 It's time to Join the Reuse Movement and make clothing and related items 'top-of-mind recyclables' like aluminum, plastic, glass, and paper.
Fairless Hills, PA (PRWEB) October 08, 2013
In an effort to increase all campus recycling and waste reduction, University of Southern Indiana announced that they have Joined the Reuse Movement and partnered with Community Recycling, a for profit clothing recycler with a focus on reuse. Clothing recycling is the oldest and greenest business in the land, yet in the US, only 15% of the population recycles their clothes and other accessories.
"Many colleges and universities have extensive recycling collection and education programs, however clothes, shoes, backpacks are not usually a part of the story, said Karen Huseman, Residence Life Director of Programming. We are thrilled partner with CR CAMPUS for the great environmental and sustainability opportunities they offer our school."
Community Recycling has been working tirelessly to promote REUSE and create a movement of People Recycling for People. University of Southern Indiana epitomizes the type of institutions that value clothing and related household items for recycling.
A new report from the US Environmental Protection Agency (EPA) states that recycling clothing and related textiles is one of the most significant ways of reducing greenhouse gases - yet just 15% of waste products find their way into re-use and recycling.
"It's time to join the Reuse Movement and make clothing and related items 'top-of-mind recyclables' like aluminum, plastic, glass, and paper," said Lisa Pomerantz, VP of Marketing and Business Development for Community Recycling.
The CR Campus collection will take place from October 10 to October 25 in the residence halls and throughout the USI campus. Students will not only engage the campus population and staff, but to use some real grass roots effort in order to gain the support of the community and the neighborhoods surrounding the institution.
The more the campus collects for reuse, the more awareness for reuse vs. landfilling. The collection also serves as a fundraiser and monies earned will support maintenance, upkeep and additions to the USI/Burdette Trail.
###
ABOUT COMMUNITY RECYCLING
Community Recycling is proud to be a for-profit textile recycler with a focus on REUSE. They have flipped the recycling triangle upside down and have mastered the most powerful 'R,' REUSE, with more than 98% of the goods collected destined for REUSE here and around the world. Engaging people in the communities where they live is essential to making the recycling process as convenient as possible. Community Recycling is effectively diverting millions of pounds of clothing, shoes and other secondhand things from landfills, generating new revenue streams for municipalities, townships, boroughs, commercial retail locations, schools, charities, thrifts; and fueling local economies by creating jobs both here and in emerging countries. Visit us at http://www.communityrecycling.biz for more information and please join us as one of our People Recycling for People.