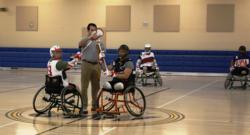 It's inspiring to witness the powerful role sports can play in building self-confidence and resiliency." -- Anne Marie Dougherty, Executive Director of the Bob Woodruff Foundation.
Rockville, MD (PRWEB) July 11, 2013
Through generous support from the Bob Woodruff Foundation, nearly 400 severely injured veterans, convalescing at Walter Reed National Military Medical Center, Tampa VA, Naval Medical Center San Diego and Fort Eustis Warrior Transition Unit, including family members and medical staff, have been provided adaptive sports opportunities and information through local Adaptive Sports Expos and Clinics this spring.
At each event, injured service members were given opportunities to participate in adaptive sports clinics, learn about opportunities directly from key adaptive sports organizations and were provided a resource guide that included dozens of adaptive sports organizations offering opportunities and support. In addition, local instructors and volunteers were taught the basics of offering specific adaptive sports in their local communities, such as wheelchair lacrosse and sit volleyball.
"Having Bob Woodruff Foundation sponsor these military medical center events has made it possible for severely injured service members to learn and try new sports," said Kirk Bauer, JD, executive director of Disabled Sports USA and a disabled Vietnam veteran. "Sports and recreational activities have very positive effects on the successful rehabilitation of wounded veterans. Having the ability to participate in a sport, such as cycling, basketball, lacrosse and volleyball, to name a few, provides our wounded with the opportunity to rebuild their self-esteem and self-confidence and reunite with family and friends in a healthy, shared activity."
When someone is first faced with the reality of a disability, they can lose confidence in themselves, become depressed and believe their active lives have ended. They are often alienated from family and friends because there are no shared positive experiences. Sports and recreational activities offer the opportunity to achieve success in a very short time period; which helps build self-confidence and a focus on possibilities instead of dwelling on what can no longer be done.
"The camp was very insightful and challenging. I walked away with a better understanding of the game of wheelchair basketball and of the other resources available to veterans as well. We received so much valuable information that will be useful not only for sports, but in the whole rehabilitation process," said retired Army Corporal and amputee.
"The Bob Woodruff Foundation is proud to support DSUSA which provides programs where injured service members come to realize that their lives are not defined by their disabilities, but rather discover their abilities to perform and reach new heights. It's inspiring to witness the powerful role sports can play in building self-confidence and resiliency," said Anne Marie Dougherty, Executive Director of the Bob Woodruff Foundation.
Bob Woodruff Foundation is a national Gold Sponsor of Warfighter Sports.
About the Bob Woodruff Foundation
The Bob Woodruff Foundation (BWF) is the nonprofit organization dedicated to ensuring injured service members and their families are thriving long after they return home. A national organization with grassroots reach, the Bob Woodruff Foundation complements the work of the federal government —diligently navigating the maze of more than 40,000 nonprofits providing services to veterans—finds, funds and shapes innovative programs, and holds them accountable for results. To date, BWF has invested more than $15 million in public education and solutions, reaching more than a million service members, support personnel, veterans and their families. The Bob Woodruff Foundation was co-founded in 2006 by award-winning anchor Bob Woodruff and his family, whose own experiences inspired them to help make sure our nation's heroes have access to the high level of support and resources they deserve, for as long as they need it. For more information about the Bob Woodruff Foundation, please visit bobwoodrufffoundation.org.
About Warfighter Sports
Warfighter Sports, a program of Disabled Sports USA, offers sports rehabilitation for severely wounded warriors in military hospitals and communities across the U.S. through a nationwide network of over 100 community-based chapters. Since 1967, Disabled Sports USA has proudly served wounded warriors, including those injured in the Iraq and Afghanistan wars, offering over 30 winter and summer sports at more than 100 events each year. Warfighter Sports rebuilds lives through sports by improving self-confidence, promoting independence and uniting families through shared healthy activities.
Contributions cover all expenses for participation, including individualized adaptive instruction, adaptive sports equipment, transportation, lodging and meals for the warrior and a family member. Since 2003, more than 7,000 of the most severely wounded and their families have been served, including those with amputations, traumatic brain injury, spinal cord injury, visual impairments, and significant nerve and muscle damage. For more information, visit http://www.warfightersports.org.