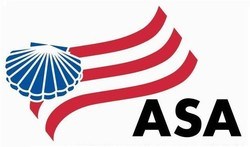 "This certification is further validation for the efforts of an industry which worked together to progress from the brink of oblivion to prosperity."
New Bedford, MA (PRWEB) December 20, 2013
Today, the U.S. Atlantic sea scallop (Placopecten magellanicus) fishery, the most valuable fishery in the United States, was certified as being in compliance with the Marine Stewardship Council (MSC) standard for sustainable, well-managed fisheries.
The certification covers Atlantic sea scallops fished along the U.S. Atlantic coast from Maine to North Carolina by limited entry federal permit holders. The fleet accounts for 95 percent of the total U.S. scallop catch.
The certification will allow the 14 member companies of the American Scallop Association (ASA) to display the blue MSC eco-label on catch from this fishery and to continue to sell to global customers who require certification. An independent, third-party Conformity Assessment Body conducted a rigorous, scientific, and stakeholder-engaged assessment and concluded that the U.S. Atlantic sea scallop fishery is "one of the best-documented and thoroughly researched scallop fisheries in the world."
"For too long, activists have blamed all of the ocean's woes on fishermen," said Ross Paasché, ASA President. "This certification provides solid evidence that fishermen are capable of being guardians of the ocean's future."
Earlier this month, John Bullard, the Northeast Regional Administrator for the National Marine Fisheries Service (NOAA Fisheries) told the Boston Globe that scallopers "have become tremendous stewards of this resource."
A threat of severe fishing effort cuts by Federal regulators in the 1990s provided the impetus for the scallop industry to band together, seek assistance from their representatives in Congress, and to fund additional cooperative research by non-government academics. Today, Atlantic sea scallop vessel owners voluntarily contribute $10 million a year from their harvest to pay for ongoing scientific research on scallop populations.
"This is an American fisheries success story," said Attorney John Whiteside, who represents the ASA and led the certification effort for the industry group. "The certification is further validation for the efforts of an industry which worked together to progress from the brink of oblivion to prosperity."
Dr. Kevin Stokesbury, Professor and Chairman of the Department of Fisheries Oceanography at the University of Massachusetts, Dartmouth School for Marine Science and Technology (SMAST) who served as the ASA's lead consultant through the three and one-half year review process said "The industry deserves this. It's a well-managed fishery. It has come back to sustainable levels. The sort of cooperation offered by the scallop industry doesn't come along every day."
The certification was granted following an independent assessment conducted by Intertek Moody Marine.
Dr. Stokesbury gave credit to his SMAST colleague Jonathan Carey, who assisted in the reviews of survey and habitat information, along with a number of individuals whose contributions were reviewed by Intertek. These included: Cate O'Keefe of SMAST, who leads a program that assists scallopers in avoiding unnecessary bycatch of yellowtail flounder; Dr. Bradley Harris of Alaska Pacific University, who has contributed to extensive study of habitat; Dr. William DuPaul, of the Virginia Institute of Marine Science (VIMS), who led scallop surveys in the Mid-Atlantic region; and Ronald Smolowitz of the Coonamesset Farm Foundation, who led the development of sea turtle avoidance technology.
Attorney Whiteside expressed thanks to Deirdre Boelke of the New England Fishery Management Council and Deborah Hart of the Northeast Fisheries Science Center at Woods Hole, who worked with Intertek to provide answers related to the fisheries management process and the government's interaction with the industry.
A History of Cooperation
In the late 1990s, Federal fisheries managers continued to maintain that scallops were overfished, cutting fishing effort even while NOAA's own surveys showed a build-up of scallop biomass and the larger size composition of scallops in areas closed to scalloping. A 1997 survey, later determined to have contained errors, caused great alarm when it showed low population levels, despite observations from fishermen to the contrary.
Facing severe cuts, scallop boat owners formed the Fisheries Survival Fund (FSF). Marjorie J. Orman, a Fairhaven, Mass. settlement house owner and an FSF founder testified in court that the proposed cuts "were so severe that they threatened to reduce scallop fishing to levels at which the vessels could not cover their costs and economically survive."
The scallopers enlisted the help of Dr. Brian Rothschild of SMAST to survey scallop abundance in the closed areas. Boat owners donated fuel, food and their vessels to make the effort possible. SMAST's Dr. Kevin Stokesbury developed video technology, which surveyed areas of the closures when government regulators denied independent scientists access for dredge surveys. It turned out to be a blessing in disguise as the video survey was exceptionally valuable in determining abundance, bolstering the industry's confidence in science, and eventually provided the ability to survey much larger areas of the continental shelf than traditional dredge surveys.
The industry provided similar support to the VIMS for research in the mid-Atlantic and New England.
The industry also turned to its representatives in Congress. Then-Congressman Barney Frank and the late Senator Ted Kennedy took additional scientific evidence to Commerce Secretary William Daley, who accepted their arguments and overturned the decision of regulators, allowing an increase in the quota for scallops. Secretary Daley was sued by the Conservation Law Foundation for his position. Writing in the New Bedford Standard-Times in 2010, Congressman Frank reflected, "...he not only won the lawsuit, he won the argument. He based his decision on data presented by the seafood industry in New Bedford which turned out to have been accurate, and we benefitted from an increase in scallop quotas without any negative effect on the stocks."
Dr. Steve Murawski of the University of South Florida's College of Marine Science, who served as NOAA's top fisheries scientist at the time, today describes the story of the scallop fishery as "a great collaboration between the scientific, regulatory, and academic communities."
In the years since, scientists and scallopers have worked with managers to promote a formal "rotational management" system for harvesting the rebounded population. This method directs vessels away from juvenile scallops and allows for controlled harvests in areas with high adult abundance. Formally established in 2003 following a series of industry-initiated access programs, rotational management remains the foundation of this fishery's remarkable success. Dr. Deborah Hart, head of sea scallop research at NOAA's Northeast Fisheries Science Center, wrote in 2005 that rotational closures "are much more likely to improve scallop yield than permanent closed areas." Rhe system has proved successful.
Member Companies of the American Scallop Association
American Pride Seafood, LLC, 40 Herman Melville Blvd.
New Bedford, MA 02741
Atlantic Cape Fisheries, Inc., 255 MacArthur Drive
New Bedford, MA 02740
Chesapeake Bay Packing, LLC, 800 Terminal Avenue
Newport News, VA 23607
Eastern Fisheries, Inc., 14 Hervey Tichon Avenue
New Bedford, MA 02740
Hygrade Ocean Products, Inc., P.O. Box 6918
New Bedford, MA 02742
Lund's Fisheries, Inc., 997 Ocean Drive
Cape May, NJ 08204
Marder Trawling, Inc., 22 South Water Street
New Bedford, MA 02740
Marlees Seafood LLC, 10 North Front Street
New Bedford, MA 02740
North Coast Seafoods Corp., 5 Drydock Avenue
Boston, MA 02210
Northern Wind, Inc., 16 Hassey Street
New Bedford, MA 02740
Oceans Fleet Fisheries, Inc., 11 Hassey Street
New Bedford, MA 02740
Raw Sea Foods, Inc., 481 Currant Road
Fall River, MA 02720
Seatrade International Co., Inc., 8 South Street
New Bedford, MA 02740
Wanchese Fish Company, Inc., 2000 Northgate Commerce Parkway
Suffolk, Virginia 23435
The American Scallop Association is comprised of twenty member companies which harvest, process, package and distribute the world's finest scallops, with an on-going commitment to providing the highest level of integrity to consumers around the globe.
The Marine Stewardship Council (MSC) is an international non-profit that runs the only certification and eco-labelling program for wild-capture fisheries consistent with the International Social and Environmental Accreditation and Labeling Alliance (ISEAL) Code of Good Practice and the United Nations Food and Agricultural Organization Guidelines for the Eco-labelling of Fish and Fishery Products from Marine Capture Fisheries.