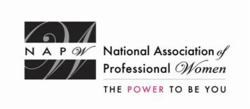 "I have been with Smith & Nephew for 14 years and love what I do."
Garden City, NY (PRWEB) November 22, 2013
NAPW honors Laura L. McInerney as a 2013/2014 Professional Woman of the year for leadership in project management with this prestigious distinction. As the largest, most-recognized organization of women in the country, spanning virtually every industry and profession, the National Association of Professional women is a vibrant networking community with nearly 500,000 members and over 400 Local Chapters.
"I have been with Smith & Nephew for 14 years and love what I do," says Ms. McInerney, who now plays an important role at Smith & Nephew as its project manager leading data driven, sustainable, quality-focused process implementations and improvements across different departments within the company. Her most recent project, working with the global demand management team is designed to improve global forecasting processes and tieout to sales.
Ms. McInerney is equipped with a plethora of skills, some of which include SAP System Super User in SD, MM, DP, WM, and FI modules, project leadership and facilitation, data analysis, performance management. She is a Six Sigma/Green Belt and a Six Sigma/Lean Black Belt with more than 13 years of experience working within the commercial, financial, reporting and systems (IT) businesses.
Ms. McInerney is continuing to work in a project management capacity making exceptional contributions to key initiatives for the company. She has many awards lining her office walls including her NAPW Woman of the Year plaque which she says, "highlights my skills in a greater circle."
About NAPW
NAPW provides an exclusive, highly advanced networking forum to successful women executives, professionals and entrepreneurs where they can aspire, connect, learn and achieve. Through innovative resources, unique tools and progressive benefits, professional women interact, exchange ideas, advance their knowledge and empower each other.