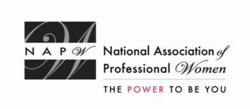 In everything we do, you'll see how we've earned a reputation for integrity and high levels of performance.
Garden City, NY (PRWEB) December 11, 2013
"In everything we do, you'll see how we've earned a reputation for integrity and high levels of performance," says Ms. Salcido, branch administrator at ABM.
The NAPW honors Sandra Salcido as a 2013/2014 Professional Woman of the Year for leadership in facilities and janitorial services management with this prestigious distinction. As the largest, most-recognized organization of women in the country, spanning virtually every industry and profession, the National Association of Professional Women is a powerfully vibrant networking community with nearly 500,000 members and over 400 Local Chapters.
As a key member of the management team, Ms. Salcido oversees the successful coordination and streamlining of her company's activities to provide the utmost efficiency and accountability, which are hallmarks of her results-driven work ethic and her dedication to her career. Ms. Salcido earned herself the well-deserved reputation for being an exceptional manager. She is recognized and depended upon by her clients for her incisive ability to troubleshoot virtually any situation that might involve disruption of services related to plumbing, lighting, electrical power, air conditioning or heating in the buildings within her purview.
Ms. Salcido continuously succeeds in a complex field that focuses on the daily management of large commercial and public sector buildings and facilities. It is through her dedication and commitment to the duties assigned to her that her company continues to maintain its reputation for keeping clients happy and satisfied.
About ABM
ABM Industries Incorporated (ABM) is a leading provider of facility solutions with revenues exceeding $4 billion and 100,000 employees in over 350 offices deployed throughout the United States and various international locations. ABM's comprehensive capabilities include facilities engineering, commercial cleaning, energy solutions, HVAC, electrical, landscaping, parking and security, provided through stand-alone or integrated solutions. ABM provides custom facility solutions in urban, suburban and rural areas to properties of all sizes — from schools and hospitals to the largest and most complex facilities, such as manufacturing plants and major airports. ABM Industries Incorporated, which operates through its subsidiaries, was founded in 1909. For more information, visit http://www.abm.com.
About NAPW
NAPW provides an exclusive, highly advanced networking forum to successful women executives, professionals and entrepreneurs where they can aspire, connect, learn and achieve. Through innovative resources, unique tools and progressive benefits, professional women interact, exchange ideas, advance their knowledge and empower each other.