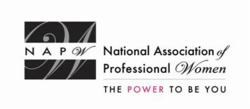 "I think my greatest skill is my passion and pride in being a teacher. I love teaching and as I am teaching future teachers, I hope to transfer that passion and pride to them."
Garden City, NY (PRWEB) November 21, 2013
NAPW honors ReGina Anne Pino, Ed.D., as a 2013/2014 Professional Woman of the Year for leadership in higher education with this prestigious distinction. As the largest, most-recognized organization of women in the country, spanning virtually every industry and profession, the National Association of Professional women is a vibrant networking community with nearly 500,000 members and over 400 Local Chapters.
"I think my greatest skill is my passion and pride in being a teacher. I love teaching and as I am teaching future teachers, I hope to transfer that passion and pride to them," says Dr. Pino. As a professional academic advisor and instructor at Eastern Gateway Community College, Dr. Pino works tirelessly to ensure her students are prepared for their future academic careers.
Whether she is teaching students in the classroom or interacting with them virtually through online classes, Dr.. Pino is committed to presenting material in the best way possible to help her students succeed. More than simply lecture, Dr. Pino encourages discussion and interaction among her pupils, and instills in them the importance of backing up their thoughts and opinions with clear facts and sound reasoning.
As an advisor, Dr. Pino skillfully guides her students as they embark on their teaching careers. "I care about all of my students and want them to succeed," she says. A firm believer in the merits of higher education, Dr. Pino is proud of her latest accomplishment: the completion of a doctoral program in curriculum and instruction. She looks forward to a future brimming with new opportunities in and out of the classroom.
About NAPW
NAPW provides an exclusive, highly advanced networking forum to successful women executives, professionals and entrepreneurs where they can aspire, connect, learn and achieve. Through innovative resources, unique tools and progressive benefits, professional women interact, exchange ideas, advance their knowledge and empower each other.