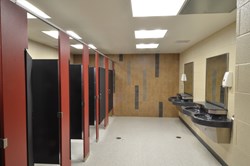 Scranton, PA (PRWEB) August 27, 2013
Peoria High School in Peoria, IL, has selected Scranton Products' partitions as part of a massive $19 million renovation project that not only accommodated the needs of 1,000 more students, but also produced an academic environment that closely blended building design with achievement. When nearby Woodruff High School closed in 2010, Peoria's enrollment more than doubled at the start of the following school year.
Founded in 1916, Peoria High School was a prime candidate for partitions and lockers that could stand up to heavy usage. The first order of business was to install Scranton Products' Hiny Hiders partitions, which were installed in eight separate restrooms located throughout the school including the gymnasium and locker rooms.
"The bathroom renovations were completed last summer and so far have worked out great," said Kayse Doering, the high school's project manager at Farnsworth, a full-service engineering and architecture firm in Peoria. "The black and burgundy textured partitions that we chose for the two-tone design of the male and female restrooms fit beautifully with our designs."
As Doering explained, the school is nearly 100 years old and in dire need of upgrades to meet government mandated compliance regulations and the additional 1,000 students. "As a result, we looked for products that would reap the highest possible return," she said. "This included high-quality design and long-term endurance in the school restrooms, an environment that can be very trying at times."
Children & Schools GREENGUARD certified for indoor air quality and made with recycled content, the HDPE partitions never rust or delaminate and provide superior resistance to dents, graffiti, corrosion, mildew and moisture. Another benefit is that they are very easy to clean and maintain and can be power washed.
"We couldn't be happier with the finished look and the product's durability, which is tested on a daily basis," said Doering. 'From what I've heard, the school's maintenance staff is also thrilled with the way they easily wipe down and resist dents, scratches and other problems such as graffiti."
About Scranton Products:
For more than 25 years our premium brands have led the plastic partitions market setting new benchmarks for the industry in quality and delivery. Our well-known brands, including Hiny Hiders®, Resistall™ and Tufftec®, feature the most durable, low maintenance and best looking partitions, lockers and industrial sheet products in the industry. They won't dent, rust or need painting, and because they have color throughout, delamination is not a factor. For more information, visit http://www.scrantonproducts.com/.
#