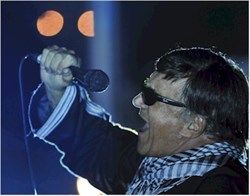 Jose Cid's "It's Snowing In New York," is already climbing the charts.
Washington, DC (PRWEB) November 12, 2013
Mark Sonder, CSEP, Chief Entertainment Officer at the award winning event entertainment music and talent agency Mark Sonder Productions, Inc. is proud to announce a move of international proportions that Portugal's #1 Pop Superstar, Jose Cid, and his tune, "It's Snowing In New York," has now been put in rotation on The Christmas Channel on your SiriusXM Satellite Radio and online.
SiriusXM's commercial-free holiday music channels will be available on multiple satellite radio channels. They will also be available in the Holiday category via the SiriusXM Internet Radio App for smartphones and other connected devices and online at siriusxm.com, according to the SiriusXM website.
Holly
Ch. 17 | November 12 - December 31
Available online Ch. 752
From contemporary holiday music to traditional favorites, make the Christmas party hop with songs by Justin Bieber, Mariah Carey, Trans-Siberian Orchestra, Richard Marx, Gloria Estefan Colbie Caillat, Josh Groban, Michael Buble, Jose Cid and more.
Navidad
Online-only Ch. 756 | December 3 - January 7
You'll hear contemporary Latin holiday music and traditional sounds, including Jose Cid, Ricky Martin, Gloria Estefan, José Feliciano, Aventura, Marco Antonio Solís, Christina Aguilera and more.
A FREE music download of Jose Cid's "It's Snowing in New York," is available at: http://www.marksonderproductions.com/freemusicdownload.
Jose Cid and family with you the best for a happy and healthy holiday season and always.
Mark Sonder Productions offers exclusive and non-exclusive bookings with headliners, musicians, comedians, theatrical productions and lecturers. For more information and to view the complete catalog, please visit http://marksonderproductions.com or call +1-540-636-1640.
About Mark Sonder Productions
Mark Sonder Productions is a privately held company that was founded in 1985. It's an award winning entertainment agency, which has more than 28 years of contracting experience, specialized in events, meetings, conventions, trade shows, expositions, concert and casino facilities worldwide, as seen in Worth Magazine, The Boston Globe, The San Francisco Chronicle, The Miami-Herald, United Press International, as well as on FOX and CBS Money Watch.
Websites:
http://www.marksonderproductions.com/josecid
http://www.josecid.com