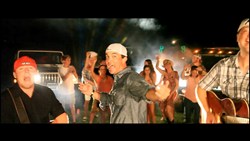 "I'm an orthodontist, so performing in a music video is a little outside of my comfort zone"
Gainesville Georgia (PRWEB) August 03, 2013
Ask Georgia orthodontist Dr. Ron Wilson for the one adjective that he wants his patients to use when describing him, his team, and/or his Gainesville, Cleveland, and Flowery Brach offices. "Life-changing, professional, friendly, affordable?" Well, yes, but none of those are his first choice. "Fun," states Dr. Wilson. "Orthodontic care is about building self-confidence and creating opportunity. So 'fun' is a tool, like braces, that I rely on to build healthier, happier smiles that reflect a better sense of self in my patients."
Thus with "fun" at the core of his practice, Dr. Wilson has for years wanted to create a music video about Wilson Orthodontics that features patients, friends, and local talent as its "stars". He finally found his inspiration upon hearing "Cruise" by band Florida Georgia Line with guest, Nelly. "I had the hook in my mind from the start, wrote the script, and was ready to shoot," states Dr. Wilson. Turns out that "fun" sometimes takes a lot of work.
Dr. Ron Wilson started by inviting two favorite local musicians, Ryan Casper and Allen Nivens, to record the track and sign on for the production. Then he scheduled the video shoot with the producers at OrthoMedia. With the date locked in, Dr. Wilson began assembling the stars of his video. He invited patients, friends, Heather Wayne's Dance Academy, and even family to assemble for the one-day shoot. He scouted locations, borrowed a boat, and got the Wilson Orthodontics "Brace Bus" ready for the July 13th date. "In the days ahead of the video shoot, there was a tropical storm that had our area in its crosshairs. It dissipated, fortunately, but there was definitely a moment of panic," says Dr. Wilson. "I'm still amazed that it all came together."
The production team was equally amazed with the outcome. "Everything was spectacular. Given the heat, humidity, long hours... But everyone involved in the video had a blast from start to finish," states Dusty Green of OrthoMedia, "It's a testament to the relationships that Dr. Wilson has formed in the Gainesville community. I can't wait for the premier."
And today, Dr. Ron Wilson is ecstatic to announce his video's release. The Wilson Orthodontics video 'Wilson You're the One' is available via Youtube.
"I'm an orthodontist, so performing in a music video is a little outside of my comfort zone," states Dr. Wilson. "But this is something that I've been excited to do for years, so I'm willing to put comfort aside for the sake of celebrating with our patients and our community," he continues.
But in the end, the message of the video and the reason he produced it are keys in Dr. Wilson's vision of orthodontics. "It's all about fun," he concludes, "I certainly hope the video helps convey the sense of 'fun' that I want my patients to feel when they're in our care. And then celebrate the opportunity and self-confidence that orthodontic treatment can yield."
For more information about Wilson Orthodontics, Dr. Wilson, or orthodontic treatment with Damon Braces, Invisalign, or Invisalign Teen, please visit Wilson Orthodontics Gainesville Office: (770) 536-0882 Click here to view the Video.
Wilson Orthodontics 1220 Sherwood Park Dr NE Gainesville, GA 30501