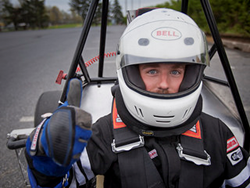 Easton, PA (PRWEB) May 19, 2014
An interdisciplinary team of Lafayette students won three first-place honors for its high-performance race car at the Formula SAE Collegiate Design Series this past weekend (May 14-17) at Michigan International Speedway.
Lafayette competed against 120 teams from colleges and universities in the U.S. and abroad, including Brown, Duke, Cornell, Georgia Tech, Lehigh, Penn State, Purdue, Rochester Institute of Technology, U.S. Naval Academy, and Virginia Tech.
The team received the Ford Fuel Economy Award for the highest score of 100 in fuel efficiency, the FEV Power Train Development Award for being judged the best in power train design, and the Altair Engineering's William R. Adam Engineering Award for development of new and innovative design concepts. Mechanical engineering major Matt Kramer '14 (Milford, Conn.), the designer of the system, accepted the Altair award.
Lafayette's project is offered through its IDEAL Center (Innovation, Design, Entrepreneurship, and Leadership), which brings together engineering and liberal arts students to work on innovative solutions to real-world issues.
The project is truly a multidisciplinary exercise in entrepreneurship, says team adviser Scott Hummel, professor of mechanical engineering and Jeffers Director of Engineering. The premise is to create a business plan and design and build a prototype for a start-up company that is going to sell 1,000 cars a year to weekend enthusiasts. Engineers can't do that alone.
"Economics majors are primarily responsible for the business model and film and media studies majors can document the process, but each team member has input into all aspects of the project," says mechanical engineering major Greg Dickinson '14 (Malvern, Pa.), who designed the car's chassis. "We not only benefit from each other's expertise, but also learn different things from each other because our backgrounds and perspectives are different."
Mitch McNutt '15 (Madison, Wis.), who is pursuing a dual degree in mathematics and economics, created a business model and cost report documenting every part of the car down to the nuts and bolts.
Having grown up around classic cars, motorcycles, and racing, mechanical engineering major Matt Tindall '14 (Hightstown, N.J.) was a natural choice as technical leader. Through the College's Jeffrey B. Havens Memorial Award, he and team manager Matt Cassera '14 (Millstone, N.J.), a mechanical engineering major, attended last year's Formula SAE series race in Lincoln, Neb., and took part in the OptimumG Vehicle Dynamics Seminar. They have applied what they learned about suspension design and analysis during the three-day course.
Instead of using design ideas from past models, this year's team started from scratch and developed the second generation race car. Lessons from the previous car were used to guide decision making. The new car weighs 33 percent less than its predecessor. Although the new car's 450 cc single-cylinder engine has 25 percent less power than the previous 600 cc 4-cylinder engine, it accelerates fast and has better fuel economy. The new car also features a sophisticated double-wishbone suspension that will transfer power to the road better.
View images of the project on Flickr.
Photos courtesy of Lafayette College; photography by Zovko Photographic LLC
Higher resolution images available online.
Lafayette is a highly selective, national liberal arts college in Easton, Pa. with 2,400 students and 215 full-time faculty, offering a wide variety of undergraduate degree programs including engineering.
Kathleen Parrish
Associate Director of Media Relations
Lafayette College
Communications Division
Easton, PA 18042
Follow us on Facebook and Twitter @LafCol.