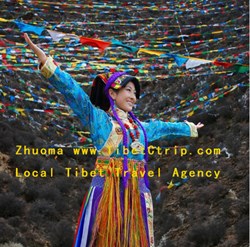 Tibet travel advice is presented by local Tibet tour agency www.tibetctrip.com
(PRWEB) November 22, 2013
International travelers worldwide are planning to visit Tibet in 2014. In recent years, Tibet's dramatic high altitude scenery and fascinating culture have drawn tens of thousands of travelers, 2014 is expected to be no exception. As tour planning begins visitors often have questions about picking travel agencies, avoiding problems using money, and how to pack. To help travelers prepare for their trip Tibet Ctrip Travel Service-TCTS (http://www.tibetctrip.com) local Tibet travel agency is here to address these frequently asked questions.
How to choose a travel agency
The first questions travelers need to ask when investigating an agency is: Do they offer the tours their travel group is interested in? For example, travelers who are interested in Tibetan history and culture will want to be sure that they book a tour that includes plenty of visits to monasteries, temples, and other important sites. Note the agency's customer service skills as well; this is likely indicative of the experience the group will have on their tour.
How to pack
This mostly depends on the kind of tour the group will be going on. Those going on an easy paced sightseeing tour will want to bring comfortable walking shoes and come prepared for cool nights, especially if visiting in the early spring. Tibet trekking requires well broken in hiking shoes and clothing that can be layered, nighttime temperatures can dip below freezing in some areas and the weather can turn on a dime! For all tours: bring over the counter medications along with hats, sunscreen, and lip balm can to protect from the harsh sunlight.
Avoid money hassles by planning ahead
It's important to prepare to use cash for all purchases. Even though most travel agencies can accept Paypal or bank transfers, local businesses like souvenir shops and restaurants only accept cash. Fortunately reliable ATMs are available throughout Lhasa but don't forget to alert banks of foreign ATM transactions. Banks usually offer the best rates on currency exchanges, if travel group members have money to change don't hesitate to ask the group's guide for help at the bank.
For many planning to travel Tibet these are among the top concerns. Planning a tour of Tibet is much easier than it seems at first; a quality travel agency can always help sort through the details and offer tour suggestions. TCTS has been operating professionally guided tours for over ten years and is always happy to help. The Tibet travel season is coming up quick, its time to start planning!
Devin Moore is a travel writer based in Denver, Colorado. Devin publishes Tibet travel related information and wish to spread awareness of Tibet and its people.