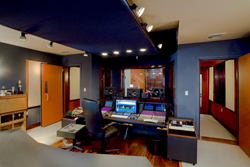 While other audio technology schools that I visited had rundown gear and consoles, SAE's equipment was the best and the most current. SAE was the right place for me to get a strong foundation in audio recording and production.
New York, NY (PRWEB) April 03, 2014
Shaul Dover, a 2009 graduate of SAE Institute New York's Audio Technology Program, is the owner of Sweatshop Studios, an audio recording and production facility in Katonah, NY. Originally launched as a music production studio, Sweatshop has recently expanded its business by making its services available to creative professionals in the film, streaming web, and commercial production industries.
Dover's audio-related pursuits originally began as a hobby to support his children's' musical interests.
"Before my kids started playing music, I had no experience in audio technology or the music business," says Dover. "As their passion for music grew, I became increasingly fascinated by the recording and production process, and I realized that I required proper training in order to gain the experience and understanding that I was looking for."
He researched a number of audio engineering schools in the New York area, and after reviewing his choices, Dover decided to enroll at SAE Institute in Manhattan in 2008.
"While other audio technology schools that I visited had rundown gear and consoles, SAE's equipment was the best and the most current," says Dover. "I was also impressed by SAE's faculty, who really seemed interested in helping students to succeed. I felt that SAE was the right place for me to get a strong foundation in audio recording and production."
Before graduating from SAE, Dover began building Sweatshop. He enlisted famed audio architect John Storyk of the firm Walters-Storyk Design Group to plan the studio's construction and optimize the acoustics of the live rooms. Dover also began accumulating gear and instruments under the guidance of SAE NYC faculty member Michael White, who was his teacher.
Sweatshop's superior acoustics are a huge draw for clients, as is the studio's proximity to Westchester residents who are in the entertainment industry and prefer to work close to home rather than trek to Manhattan.
Recent Sweatshop clients include:

David Letterman's music director Paul Shaffer, who's recording a track for a new album
Actress Maggie Q, who did ADR (automated dialogue replacement) work for the movie "Divergent" (Summit Entertainment/Lionsgate)
Actor Ryan Reynolds, who did ADR for upcoming movie release "The Voices" (Lions Gate Entertainment) as well as for the films "Turbo" (DreamWorks/20th Century Fox), "RIPD" (Universal), and "The Croods" (DreamWorks)
Rob Thomas, who's recording vocals for songs on the new Matchbox Twenty album "North" (Atlantic Records) and also recorded vocals for Santana's most recent album "Guitar Heaven" (Arista)
Thalia, who has been working on her latest album "Habitame Siempre" (Sony Latin)
Actor Jeffrey Tambor, who recorded ADR sessions for the original comedy series "Transparent" (Amazon Studios), the upcoming movies "Trouble Dolls" (Starstream Entertainment) and "Merry Friggin' Christmas" (Sycamore Pictures), and voiced commercials for Sabra Dipping Company's line of salsa and hummus products
Gunhill Road, a 70s rock band which has reunited to track and mix a new album
"My advice for SAE students or grads who want to open their own studio is to not do it for the money - do it for the love of it, and the rest will show up eventually," says Dover.
***
About SAE
SAE USA provides aspiring creative media professionals with a foundation of practical theory and valuable hands-on training in their chosen areas of concentration. Under the guidance of our faculty, which is comprised of working industry professionals, students gain the essential experience they need for entry-level jobs in the entertainment business. Our students are supported in their job searches by SAE's international network of alumni, many of whom are leaders in the music, film, gaming, and live performance arenas. Across our seven US campuses, we offer two accelerated Associate Degree programs and two Diploma programs in audio technology and music business, all fully accredited and focused on making students employment-ready when they graduate. SAE is a part of the Navitas group. Learn more about SAE at http://www.usa.sae.edu/en-us/home/.
About Navitas
Navitas is an Australian global education leader, providing pre-university and university programs, English language courses, migrant education and settlement services, creative media education, student recruitment, professional development, and corporate training services to more than 80,000 students across a network of over 100 colleges and campuses in 27 countries. Navitas is an ASX Top 100 Company. Further information about Navitas is available at http://www.navitas.com.