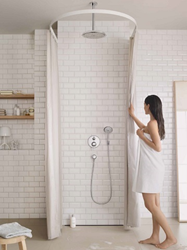 Water saving fixtures of all kinds are becoming a must-have in new bathroom renovations, and are more efficient and effective than ever.
(PRWEB) February 08, 2014
HomeThangs.com – the Online Home Improvement Store – has made their goal to deliver the right product to the consumer. With that in mind, shopping and home design tips, as well as special product selections are being introduced.
Many of the most significant 2014 bathroom trends are ones that might sound a little familiar, as quite a few have been gaining traction for the last few years. That said, a lot of the suggested features of yesteryear have become major must-haves for any large scale remodel in 2014, while other trends have continued to evolve in interesting ways. HomeThangs.com has introduced a guide to some of the most important bathroom trends for 2014, as well as what's changed since last year.
Black, gray, and other neutrals are the go-to colors for the bathroom in 2014. High contrast black and white bathrooms with a chic, glamorous look (including patterned wallpaper and lots of fabric accents) are popular in the guest bathroom, while a softer grayscale look, mixing matte finished tile and subdued blue-gray concrete tones are more popular in the master bath.
Asian inspired bathrooms are shaping up to be especially popular as well, combining the sleek, simple lines of a minimalist modern design with a warm, relaxing touch of nature reminiscent of high end spas. Look to keep bathroom fixtures simple and relatively spare, opting for wide open spaces, lots of natural light, and a few live plants like orchids or bamboo.
Surprisingly, wood is starting to become a prominent feature in bathroom design. Wood floors, wood shower floors, barn beams, and unpainted wood paneled walls are all highly desirable features this year and give a bathroom that warm, earthy, slightly rustic quality that homeowners are really looking for. Glass is just as popular as it was last year, if not moreso: frameless shower doors, big windows, and single-sheet backpainted glass tile all contribute to a bathroom looking bright, open, airy, and just a little bit modern.
Water saving fixtures of all kinds are becoming a must have in new bathroom renovations, and are more efficient and more effective than ever, from aerated shower heads and automatic faucets to low-flow, dual-flush toilets.
Showers will continue to reign supreme in 2014, and are only getting larger and more elaborate. Custom showers with multiple shower heads that put out lots of water are still a popular luxury option, but slightly more eco-friendly steam showers are starting to gain an edge, both for their spa-like high tech luxury and their lower operating cost. Showers are becoming more open as well, using frameless glass shower doors or no doors at all and going curb-free to create that relaxed, wide-open spa like feel.
Some homeowners are dismissing bathtubs entirely in favor of larger and larger showers, but many more are turning to unique looking freestanding bathtubs instead. Classic clawfoots and more modern freestanding tubs have a beautiful sculptural quality and work beautifully as a focal point for the space when placed in the center of the bathroom.
Customized storage and features are becoming more popular in 2014 as homeowners seek to maximize functionality while downsizing the size of their bathrooms. Features like recessed niche shelves, pull out cabinets, and built in night lights all make a bathroom more functional by making better use of the existing space.
It's fast becoming a necessity to add a second sink when remodeling a master bathroom of any size. Whether it's in the form of a double vanity or two smaller matching sinks or vanities, home buying couples want a little extra personal space and a sink that doesn't have to be shared.
Wall mounted toilets are also starting to catch on. If low flow and dual flush toilets are a must have, wall mounted toilets are a nice little optional upgrade – a way to add a little extra style and save a little space. Younger buyers especially appreciate the sleek, finished look of wall mounted toilets, and they're a great way to save space in a smaller bathroom, too.
Last but not least, it's becoming more and more common for homeowners to remodel their bathrooms with an eye towards the future. Accessible features, from curbless showers to grab bars, can make it possible to remain independent even with limited mobility, which is crucial for those who wish to remain in their homes as they age.
To find out more about the top bathroom trends of 2014, check out the full article here.
HomeThangs.com is not only a home improvement superstore, it also provides expert design tips and a comprehensive shopping guide, taking the ideas from professional interior designers, and offering tips to the consumers on how to pick the products to best suit their needs.