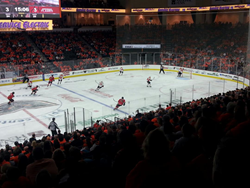 We're excited for the opportunity to provide services for PPL Center and to continue growing our partnership with Global Spectrum. It's a pleasure to be involved in the opening of this state-of-the-art multi-purpose arena.
Northridge, CA (PRWEB) November 04, 2014
Contemporary Services Corporation (CSC), the world leader in crowd management and event security, announces its new contract to provide services for the newly completed PPL Center, operated by Global Spectrum, in Allentown, PA. CSC Philadelphia will provide crowd management, access control and perimeter security screening for PPL Center under the direction of Gunnar Fox, General Manager, and Brooke Cima, Senior Event Manager.
The new PPL Center, which had its grand opening on September 12, is home to both the Lehigh Valley Phantoms, the AHL affiliate of the NHL Philadelphia Flyers, and the Lehigh Valley Steelhawks of the Professional Indoor Football League (PIFL). The amenity-packed arena seats over 8,500 fans for professional hockey games and more than 10,000 fans for concerts. PPL Center is expected to host more than 140 events each year, offering something for everyone, including the Phantoms, the Steelhawks, concerts, family shows, trade shows, Disney on Ice, youth sports, high school and collegiate events, graduations, and conferences. CSC Philadelphia partnered with PPL Center to kick off its unveiling last month with performances by The Eagles and Tom Petty & The Heartbreakers.
CSC Philadelphia, led by Branch Manager Bobby Glaser, also provides crowd management services for Lincoln Financial Field, PPL Park, Philadelphia Union, Saint Joseph's University, University of Pennsylvania, Princeton University, Temple University, University of Delaware, the Palestra, and the Pennsylvania Convention Center. Mr. Glaser stated, "We're excited for the opportunity to provide services for PPL Center and to continue growing our partnership with Global Spectrum. It's a pleasure to be involved in the opening of this state-of-the-art multi-purpose arena that will have such a large impact on the revitalization of Allentown, PA."
Contemporary Services Corporation (CSC) is the world leader in crowd management and event security for the entertainment and sporting event industries. Throughout its 47 years of experience, CSC has garnered a loyal and esteemed clientele base, including more than 100 stadiums and arenas, over 100 universities and colleges, more than 30 convention centers, and numerous clients within the professional ranks of MLB, MLS, NBA, NFL, NHL, and NASCAR. CSC has also provided services for the world's most prestigious special events, including Collegiate Bowl Games, NCAA Final Four Tournaments, PGA of America, PGA TOUR, US Open Tennis, 30 Super Bowls, 9 Olympic Games, 4 Presidential Inaugurations, 2 Papal visits, and 2 FIFA World Cups. CSC operates more than 50 branch locations throughout the United States and Canada.
http://www.csc-usa.com
CSC Facebook