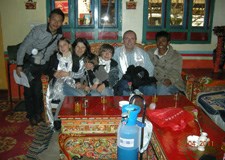 No hesitate to contact www.tibetctrip.com, local Tibet travel agency for any tours or trekking in Tibet!
(PRWEB) December 01, 2013
Visiting higher altitude Tibet travel destination can sometimes be difficult when travelling with children or family members who have trouble adjusting to the thin air. As 2014 approaches, local Tibet travel agency TCTS (http://www.tibetctrip.com) has begun taking reservations for their new family friendly Tibet tours that visit famous cultural sites and scenic areas at an easy pace. Most tours begin in Lhasa and head for higher altitude areas once everyone has had time to adjust; TCTS discusses one of its most popular itineraries.
Day 1: Arrive in Lhasa. The travel group's native Tibetan guide will meet them at the airport or train station and accompany them to their hotel in Lhasa. TCTS makes an effort to arrange accommodations near famous Tibet attractions like Barkhor Bazaar and Potala Palace. It's best to rest, relax, and drink lots of water on the first day; should the group choose to venture be sure to keep activity light.
Day 2: Travel groups will begin to learn about Tibetan culture as they visit Jokhang Temple and Barkhor Bazaar in the morning. In the afternoon travelers will head to see the debating monks at Sera Monastery. Today is an easy day of walking giving travelers additional time to acclimatize to the altitude.
Day 3: By today, most travelers will have adjusted to the thin mountain are and will have no problems climbing the stairs up into Potala Palace, panoramic views of Lhasa and the mountain scenery reward those who make it up. This is the highlight of traveling in Tibet for many visitors inside awaits some of Tibet's most important cultural treasures. In the afternoon travelers often visit Norbulingka, summer palace of the Dalai Lama.
Day 4: Today travelers will depart Lhasa for a day trip to Lake Namtso. This expansive high altitude lake features uninhabited islands that sit on water that shines turquoise on sunny days. On the way back travelers can choose to take some time to relax at Yangpachen hot spring.
Day 5: Depart Lhasa. There may be some time for last minute shopping and exploring, depending on travelers' flight or train schedule. The group's guide will see them off at the airport or train station.
Over five days traveling families can see some of Tibet's most famous cultural sites and scenery without having to push themselves too hard in a high altitude environment. All of TCTS's tours are completely customizable to meet travelers' interest and needs; if the group has something in mind please don't hesitate to ask. The 2014 travel season is coming up quickly, its time to start Tibet tour planning now.
Devin Moore published the new release above. Devin is a travel writer from Denver, Colorado.