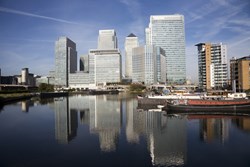 London has seen its fastest growth in years and I can't see it being any different in 2014. London will no doubt be one of the top cities to invest this year as the economic recovery continues.
(PRWEB UK) 28 January 2014
London didn't make it onto the list of the world's top 10 most desirable cities to live, however experts at Colordarcy.com believe there are 5 reasons why property investors from all over the world see it as one of the best cities to invest. Property prices in London increased by nearly 15% in the 12 months of 2013 (Source: Nationwide: House Price Index, 2014). This meant that London easily outpaced the rest of the UK for growth in 2013.
Average growth in property prices in the UK hit 7.5% in 2013 (Source: Halifax House Price Index 2014) which was only just over half the rate of growth seen in London. Loxley McKenzie, Managing Director of Colordarcy said, "London has seen its fastest growth in years and I can't see it being any different in 2014. London will no doubt be one of the top cities to invest this year as the economic recovery continues."
Colordarcy highlight the following five reasons why London property will make a sound investment choice in 2014:
Prime London property is popular with wealthy foreign investors, many of whom regard London as a safe haven from troubles back home. London is seen as a reserve currency for those who wish to protect their wealth.
The global financial crisis and the Arab Spring introduced a great deal of uncertainty in Europe and the Middle East respectively and there remains political unrest in some Middle Eastern countries. According to Colordarcy.com, demand for property has increased dramatically as a result and they expect to see a further increase in sales of London properties in 2014.
Demand for property in London doesn't just come from abroad. According to Colordarcy, they are seeing an increase in enquiries from UK investors encouraged by low mortgage interest rates and an economy which looks as if it has finally turned a corner.
The cost of catching the train or driving from towns and cities within a commutable distance of London has become so high that a big part of any savings made from purchasing property in cities such as Oxford and Cambridge is wiped out. (Source: Metro, 'Does the cost of commuting negate the savings of living out of London?', 17 Jan, 2014).
According to Colordarcy, this is encouraging more people to consider moving closer to their place of work in the city even though property prices will be higher.
The FT reported this month that London house building rates are at half the level needed to meet demand. 42,000 homes a year will be needed to satisfy current demand with the population of the city continuing to rise.
The population of London currently stands at 8.17 million. More people means more demand for homes in London and it is this more than most of the other factors which will be the main driver for more increases in property prices in the future according to Colordarcy.
Colordarcy.com are currently offering investors the chance to take advantage of the London property boom with luxury Canary Wharf Tenanted Apartments. The apartments provide the opportunity to receive a secure income from day one with demand expected to be strong from corporate tenants.
Notes to the editor:
Colordarcy is a leading property investment company that specialises in finding positive cash flow investment properties worldwide. Their aim is to provide their clients with properties that offer the unique combination of strong growth returns and cash flow positive income.
Investing in positive cash flow property significantly reduces the risk because the property will pay for itself regardless of market conditions, employment status or other financial commitments.
Colordarcy provides complete support before, during and after a sale, including finding tenants, financial assistance, viewing trips and currency services. Colordarcy are proud members of the 'Association of International Property Professionals' (AIPP), and abide by its code of conduct, one established to protect the buyer, by ensuring members follow professional guidelines and procedures.
Colordarcy investment property portfolio includes some of the best properties for sale in Brazil, Florida, Turkey and the United Kingdom.
For more information, supporting pictures or logo artwork, please contact:
Brett Tudor
PR Manager
Tel: +44 (0) 207 100 2393
Email: press(at)colordarcy(dot)com
Web: http://www.colordarcy.com/
Colordarcy Investment Ltd
28 Leman Street
London
E1 8ER