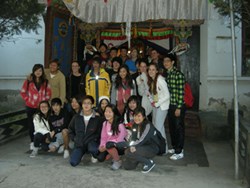 Lower budget, better experience for travelling students in Tibet! Contact local Tibet travel service for more information!
(PRWEB) November 20, 2013
Students' tour in Tibet is a fantastic way for students to gain the global perspective they need to stand out amongst their peers. Tibet travel agency Tibet Ctrip Travel Service-TCTS (http://www.tibetctrip.com) has experience working with student travelers and operates tours that provide opportunities to engage with local culture and connect with Tibet's natural beauty. TCTS now offers new tours that provide students with an opportunity to learn about Tibetan culture and history. Some of the new tours include:
4 to 6 Day Tibet Culture and Buddhism Tour: Travel groups begin their tour of Tibet in Lhasa, here they can acclimatize to the altitude and become oriented with Tibetan culture. Over the first few days, a native Tibetan guide will accompany travelers to places like Potala Palace, Jokhang Temple, along with Sera and Drepung Monasteries. Visiting and learning about places like these give insights into Tibetan Buddhism and how it has influenced Tibetan history. After touring Lhasa, the Yarlung Valley, cradle of Tibetan civilization, is next on the itinerary. Travelers will visit places like Yumbulagang Palace, over 2000 years old and is the first palace built in Tibet, then Tramdruk Monastery, one of Tibet's oldest and greatest temples.
7-10 Day Everest Base Camp Tour: This Tibet tour blends Tibet culture and history with some of Earth's most spectacular scenery! After becoming acclimatized to the altitude and oriented with Tibetan culture, travel groups will head for Mt. Everest Base Camp. The drive to base camp takes two days, making several stops. First at Lake Yamdrok, a vast mountain lake that shines a deep blue on sunny days, second in Gyantse to explore Pelkhor Monastery and Kumbum Pagoda, and then an overnight stop in Shigatse where travelers can visit a Tibetan market and explore the sprawling Tashilhunpo Monastery. The tour arrives at Everest Base Camp in the afternoon or early evening and stays overnight for early morning views of the mountain.
Tibet travel provides many unique opportunities to engage with locals and become more in touch with Earth's natural heritage. The array of enriching activities TCTS can organize helps ensure that there is something for everyone. Students who visit will be able to learn about the region's culture and history while taking a much-needed break from studying. TCTS's native Tibetan guides welcome questions about Tibetan culture and can help travelers gain insights into Tibet they otherwise wouldn't have. With Tibet summer vacation 2014 coming up, travelers are advised to plan ahead and get initial tour information from professional Tibet travel service. TCTS is Lhasa based travel agent committed to responsible tourism and professionalism.