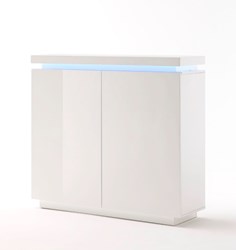 (PRWEB UK) 2 January 2014
After previous successful years, the magnificent world of Furniture In Fashion is coming up with a new range of home furniture for the upcoming year, 2014. Buyers will find a new segment of designer home and living rooms furniture for uplifting the beauty of a place. Moreover, there will be some additional segments of furnishing products which can be availed from Furniture In Fashion like high gloss furniture and oak products. These are not only beautiful to look at, but are available with durable features. These enriching changes will surely add more grace and beautify the surrounding environment, to a new level.
Furniture In Fashion is offering a wide gamut of choices in both contemporary and traditional furnishing items. The designs are just awesome with jaw dropping color combinations. On the other hand, to enhance the beauty of these products, glass doors are also used. The eminent oak section comprises of dining table sets, coffee tables, dining tables, TV stands, side tables and more, made out of durable raw materials. The 24 hours online service adds another feather to the cap. The buyers can easily avail these products any time of the day, with a click of their mouse button.
The prices of these products vary on their designs and manufacturing materials. There are lucrative discount ranges of these furnishing items to make it an affordable deal for all. Browse through the entire site well to check the products and their respective prices and click on your chosen product. Your chosen product will be delivered within the given time period. The dazzling designs will match perfectly with any kind of interior décor. Moreover, to make the deal even more worthwhile, special discounts are marked for upcoming occasions like Christmas and more. The collaboration of this company with some interior designers and property developers makes it a number one choice among masses.
However, customers can also get a chance to win free furniture, by just participating in a contest hosted by Furniture In fashion. On the other hand, the products purchased from its online store will be delivered without taking any extra charge for shipping services. There are special ranges marked for the new furniture set for the year, 2014. Buyers can choose their favorable items from a large section of antique products and comfortable sofa sets. Some of the most eminent products to be availed from Furniture In Fashion for the upcoming year 2014 are modern console tables, dining room and living room furniture, hallway products, shoe racks, leather furniture wall mirror, TV stands, coffee tables and more.
Furniture In Fashion is known for offering products, straight from its German-based manufacturing unit, with strict guidance from experts. For the betterment of the visitors, it has another showroom in Bolton, UK, for those who love to shop from retail outlets. These products are durable and can last for a longer time period. There are some additional services offered by Furniture In Fashion, which is also important and must be noted down. For detailed information its products and services, please log onto their official site at http://www.furnitureinfashion.net/.