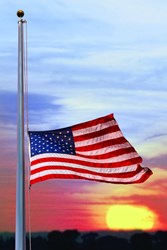 Little Rock, AK (PRWEB) December 31, 2013
The New Year is almost upon us and many may be sitting down to mark special dates on their calendars. While marking down birthdays and special events, think about marking what days to lower your American flag to half staff. While the American flag should be flown every day of the year, it is especially important to fly flags on national holidays and if they are half staff days, flags should always be lowered to half staff.
Kerry McCoy, owner of FlagandBanner.com, said, "The American flag does not stand for any political party or faction, it stands for every American. We look to our flag in times of national triumph such as the upcoming Olympics when we hope to see our flag displayed and our national anthem play. We again look to our flag in times of national tragedy, such as the Boston Marathon bombing this past year or September 11th, 2001. These times of trial or celebration are when we as a nation rally around our flag. Let us hope in 2014 that half staff notices will only be issued for already known holidays and we also hope you will join us in proudly flying your flag all 365 days this year."
2014 Holiday Calendar:
Wednesday, January 1, New Years Day
Monday, January 20, Martin Luther King Day
Monday, February 17, Presidents' Day
Thursday, May 15, Peace Officer's Memorial Day (half staff)
Saturday, May 17, Armed Forces Day
Monday, May 26, Memorial Day (half staff until noon, then raised to full staff until sunset)
Saturday, June 14, Flag Day
Friday, July 4, Independence Day
Monday, September 1, Labor Day
Thursday, September 11, Patriot Day (half staff)
Friday, September 19, National POW/MIA Recognition Day
Monday, October 13, Columbus Day
Tuesday, November 4, Election Day
Tuesday, November 11, Veterans Day
Thursday, November 27, Thanksgiving Day
Sunday, December 7, Pearl Harbor Remembrance Day (half staff)
Thursday, December 25, Christmas Day
If you would like reminders of when to fly your flag at half staff for events other than those listed in the calendar above sign up for Flag Alerts from FlagandBanner.com.
FlagandBanner.com is based in Little Rock, Ark., and has been in business since 1975. They have been selling flags, flagpoles, banners, pennants and home and garden décor online nationally since 1995.
For more information about the more than 22,000 products FlagandBanner.com offers, log on to FlagandBanner.com, become a fan on Facebook, or call one of their Flag Experts for answers to any and all questions about flags, banners, pennants and more at 1-800-445-0653.