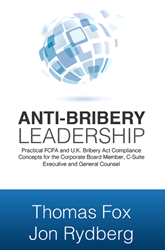 Practical FCPA and U.K. Bribery Compliance Concepts for the Corporate Board Member, C-Suite Executive and General Counsel
Hartford, CT (PRWEB) December 30, 2013
Orchid Advisors and Tom Fox Law released their newest publication, "Global Anti-Corruption & Anti-Bribery Leadership." The 60-page guide is available immediately through normal book distribution channels such as Amazon.com and the two firms' websites.
"The challenge for corporate leaders is dissecting the multitude of regulatory guidelines, texts, case studies and other media into practical methods for governing their organizations," says CEO of Orchid Advisors, Jon Rydberg. Unlike other FCPA "text-books," this guide is a short, targeted piece that can be read quickly by the highest of corporate executives and Board members who often have little time.
"The guide provides executives with direct access to our professional experiences in compliance program assessment, design and related corporate investigations. Such information is critical to navigating the U.S. Federal Government's, and now international governments', focus on laws such as the Foreign Corruption Practices Act and the U.K. Bribery Act," says Tom Fox.
"We are excited to find yet another way to combine Tom's experience with Orchid's mission to transform the Compliance EcosystemTM, says Orchid's Rydberg. "Our collaboration fills a void in combined thought leadership, software application controls, and proven experience."
ABOUT ORCHID ADVISORS
Orchid Advisors is a strategic management consultancy focused on transforming the worlds of audit and compliance in selected industries. Our initial entry market is the Firearms Industry where Orchid counts among its customers the top firearms manufacturers in the world. Orchid clients hire the firm to help reinvent business processes, implement technology solutions to support that change, and strategically plan and monitor resulting sustainable audit and compliance cultures in their organization. Orchid Advisors bring the depth and breadth of Big Four consulting with the innovation, thought leadership, and economies of a boutique analyst firm. For more information, see http://www.orchidadvisors.com.
ABOUT TOM FOX LAW
Thomas Fox Law is a Houston, TX-based 25-year-old legal services practice focused on Foreign Corrupt Practices Act/Anti-Corruption Compliance, Risk Management, International Transactions, and Claims Management. Principle Thomas Fox was most recently the General Counsel at Drilling Controls, Inc., a worldwide oilfield manufacturing and service company. He was previously Division Counsel with Halliburton Energy Services, Inc. where he supported Halliburton's software division and its downhole division, which included the logging, directional drilling and drill bit business units. Tom writes and speaks nationally and internationally on a wide variety of topics, ranging from FCPA compliance, indemnities and other forms of risk management for a worldwide energy practice, tax issues faced by multi-national US companies, insurance coverage issues and protection of trade secrets. Tom is a graduate of the University of Texas, Michigan State University and the law school at the University of Michigan. For more information, see http://www.tomfoxlaw.com.