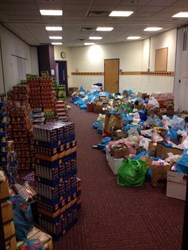 North Ridgeville, OH (PRWEB) December 31, 2013
For over 30 years Lake Ridge Academy students have participated in an annual holiday project. Beginning at Thanksgiving and running until winter break, students in grades Kindergarten through grade 12 collect clothing, canned goods, and coins to be donated to families in need throughout Lorain County, Ohio. At a celebratory assembly, students learned that this year's project collected a record breaking 22,259 cans (approximately 9 tons of food), $2000+, and presents for 100 children.
Lake Ridge Academy President, Carol Klimas, points out that this project is a natural extension of "what we do at Lake Ridge Academy. We understand that service to others is important as we understand our role in the greater community."
Together with Christ Evangelical Lutheran Church, Lake Ridge Academy will invite families from the community to enjoy a dinner prepared by the church and served by our students on January 4, 2014. Each registered child from will receive a bag of gifts presented to them by the "Three Kings" and each family will take home four large bags of groceries. The collections from the project will fill the church's food pantry for several months. Additional food will be donated to organizations throughout Lorain County.
We are very proud and thankful for all of Lake Ridge Academy's students hard work and spirit of volunteerism!