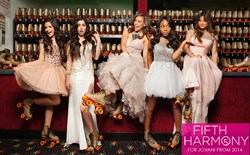 'We don't make dresses for just one type of girl; we make them for every girl.' - Julie DuRocher, Jovani Design Director
New York, NY (PRWEB) January 02, 2014
When you think about prom, there are always three things that come to mind; show stopping dresses, a night to remember with great friends and dancing the night away to the best music of your senior year. Jovani, the New York-based fashion house, is giving schools around the nation a chance to make this special night that much more amazing with their new partnership with the music sensation Fifth Harmony.
Known for their glamorous evening wear and a top seller within the prom market, Jovani has made its mark on this prom season with its collaboration with Fifth Harmony. The girl group phenomenon who got their debut on FOX's hit show X Factor was the perfect choice for the evening wear brand when deciding on a celebrity face for prom 2014.
"Fifth Harmony represents girls all across the country and gives our consumers a chance to see someone that looks and represents them in some of their favorite Jovani dresses," said design director Julie DuRocher. "Jovani is such a diverse brand in the fact that we have dresses that fit every type of personality, style and body shape. We don't make dresses for just one type of girl; we make them for every girl."
With over 400 styles to choose from, Jovani's prom selection is one of the most diverse yet high quality within the market. From the most traditional of gowns that feature silk chiffon and beaded bodices to unique styles for the daring and dramatic, Jovani is continuing to be a leader in making prom trends across the nation.
Jovani and Fifth Harmony's collaboration does not just stop at the name. The duo announced today their high school prom concert giveaway. Schools across the nation will have an opportunity to have students, teachers, parents and friends vote for their school no matter how big or small.
The music group will also be making an appearance at a dress giveaway hosted by the non-profit Operation Prom. Providing juniors and seniors with an opportunity to look amazing at prom, Operation Prom hosts dress giveaways across the country for students from low income households. Jovani, who is the national sponsor for Operation Prom, donated over $67,000 worth of brand new prom dresses to the organization.
For more details and information on how to enter into Jovani's Prom 2014 Fifth Harmony Contest Giveaway, please go to http://www.JOVANI.com.