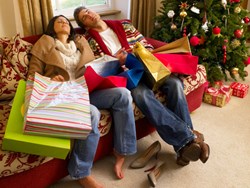 (PRWEB) December 31, 2013
An online survey at Tellwut found that 34% felt this Christmas Holiday to be better than last year, while 54% felt it was just as good; only 12% felt it was worse. When asked if cash and gift cards were acceptable gifts, only 7% felt this to be a copout versus 66% saying that gift certificates or cash made an awesome gift. Cash was favored over gift cards by 9 percentage points.
Tellwut's Holiday survey recap covered a number of questions providing further insight into this 2013 Christmas Holiday Season. With regards to holiday season spending, 32% spent less, 41% spent the same and 27% spent more. Something to remember next year is that 37% prefer to select their gift and 17% prefer something off their wish list, while 46% still prefer a surprise. Lastly on the list of topics polled, 85% spent time with the family, 10% traveled home for Christmas, 5% took a vacation, 16 % dressed their pets, 22% re-gifted, 18% know they received something re-gifted, 15% plan to return a gift they received, 25% went to church or place of worship, 34% sang Christmas Carols, 16% went to see a movie, 50% watched their favorite holiday movie at home and 37 percent donated either food, money clothing or time.
Tellwut member's also had a number of questions for the panel. Someone wanted to know if people gained weight over the holidays and 43% said yes. 47% send out a Christmas card of some form and 29% included a picture. 41% hand out gifts from under the tree before the present opening starts, while 25% say it's a free for all. With 84% enjoying Christmas, Tellwut can safely say 'tis the season to be jolly!
Tellwut is an open online forum North American community of individuals dedicated to expressing their opinions through online surveys based upon a wide variety of topics in exchange for rewards and the Tellwut community experience. The Tellwut community and proprietary online survey and reward software application provide a platform for organizations to send surveys to their stakeholders or to crowdsource and conduct online market research through the use of the Tellwut survey platform and the Tellwut Community; thus allowing businesses a clearer understanding and insight into their products or services, customer sentiment and potential business opportunities.