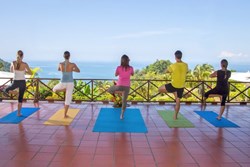 (PRWEB) December 31, 2013
Since the 1990s, the U.S. population has been trending towards healthier habits. With the information age, there is no longer any question about which habits are healthy and which habits are not. Informed populations demand healthier foods, healthier activities, and even healthier holidays.
For healthy people, their habits are a way of life—not a trend. Even when on vacation, they eat healthy and stay active. They seek out the destinations that have a healthy standard, and plenty of activities. For the healthy and adventurous, Costa Rica represents a veritable playground.
The typical diet in Costa Rica is simple and balanced: rice and beans, tropical fruits, fish, chicken, and roots like cassava and sweet potato. Fresh fruit juice is offered in nearly every 'soda' and restaurant, as well as the most popular dish—the 'casado', which consists of an entrée (fish, chicken, beef, veggies), rice, beans, salad, fried plantains, and a mixed-veggie picadillo. Much of what is offered is locally produced, and also fresh. At the fish market one can get mahi mahi that was caught the same day, and the Saturday morning market by the ocean side has the most crisp produce.
Hand-in-hand with diet is activity. At nine degrees north of the equator, Costa Rica is in the heart of the tropics. In Manuel Antonio, at the center of the Central Pacific coast, the weather rarely gets cold enough to even warrant a sweater. The Great Outdoors is open year-round, and rife with adventure activities such as surfing, snorkeling, waterfall rappelling, horseback riding, canopy tours and rafting. Healthy mind and spirit activities also abound, like yoga, dancing, and paddle-boarding pilates.
Vacation rental properties such as the VP Private Resort, in Manuel Antonio, cater to the healthy-minded. With 8 bedrooms, a private chef, a huge pool, five acres of gardens and fruit trees, and fantastic spaces for group activities it is perfect for yoga vacations, spiritual retreats and other healthy holidays.
A typical day at VP consists of a balanced breakfast of tropical fruits, toast, eggs, juice and coffee in the morning. The sun always rises around 5:00 – 5:30 a.m. in Costa Rica, so best to get an early start. Next, Canopy Safari picks group up for the canopy tour at 7:30 a.m., and also provides a delicious, local meal afterwards. Then it's back to VP in time for afternoon yoga classes—and maybe a shiatsu massage. Meanwhile, the chef has prepared a dinner of fresh mahi mahi, served with steamed garlic vegetables, rice and a passion fruit-mango chutney. Of course, this still leaves time for an evening swim, reading on the verandah to the sounds of the rainforest, or going out for live music and salsa dancing…
The important thing is that in the modern world the healthy holiday is now more possible than ever, and destinations such as Manuel Antonio, Costa Rica, are a health enthusiasts' dream. With so much nature, beauty, and fresh nutrition, it is no wonder why Costa Rica is at the top of the healthy-traveling bucket list.