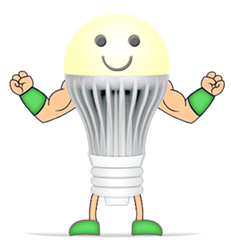 The mission is to help women entrepreneurs sell solar LEDs to homes in Sub-Saharan Africa that presently use kerosene lighting.
Franklin, TN (PRWEB) January 02, 2014
With 40 and 60-watt bulbs effectively being banned on January 1st, consumers are left with two choices: LED (light emitting diodes) and CFL (compact fluorescent lamps). "Although CFL bulbs have come down in price, they have given lighting a bad name. Consumers tried these bulbs years ago and found the quality of light was less than desired," said Randy Reid, editor of the EdisonReport, the leading site for news and information for the lighting industry in North America. They took minutes to come to full brightness and did not work on standard dimmers. Most importantly, they contain mercury. Although many CFL bulbs now have improved color and start faster, the dimming and mercury issues have not been adequately solved.
Reid believes LED is the answer. The problem is cost. Although a few retailers sell 40-watt replacements in the $10 range, most LED bulbs cost $20 or more. Many consumers feel that the savings realized in electricity costs aren't enough to off-set the initial price tag. This is one of the reasons Reid established HonestLED.com. As an expert in the lighting industry, he wants to give consumers a chance to try LED bulbs without having to pay the high price that most retailers charge. HonestLED.com customers can return any bulb for any reason, or for no reason, within one year for a full refund.
There are also safety implications with CFL because of their mercury content. Most consumers are unaware that CFLs require proper handling and disposal, as these light bulbs usually end up in landfills or incinerators. LEDs do not contain mercury resulting in a more eco-friendly solution. It is in this spirit that HonestLED.com was also formed. As a U. S. Army Reserve Veteran, Reid demonstrates a sense of service and stewardship. "We give a portion of our profits to Solar Sisters. Their mission is to help women entrepreneurs sell solar LEDs to homes in sub-Saharan Africa that presently still use kerosene lighting," he added. Ultimately, the goal is to provide a healthy and non-hazardous light source like LEDs to parts of the world that are ensconced in light poverty.
Today, LEDs can mimic the aesthetics of incandescents much closer than CFLs. Although available in many color temperatures, warm white is still preferable as it matches the light incandescents produce. On the other hand, many CFLs impart a bluish tint. Finally, with its dimming capabilities, LEDs also resemble the shape of the standard light bulb, something the corkscrew-shaped CFLs obviously do not.
About HonestLED.com: HonestLED.com is an online lighting retailer based in Franklin, TN. The company specializes in LED light bulbs mainly for residential applications. Follow @HonestLED on Twitter for the latest company news.
Contact:
Angie Hullfish
HonestLED.com
615-932-1029
info(at)HonestLED(dot)com