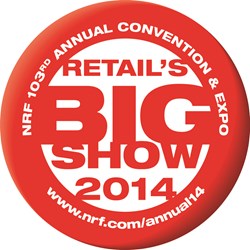 Customers' shopping preferences are changing drastically, and it is in the retailers' best interest to be there for their customers wherever and whenever the customer feels like shopping
Atlanta, GE (PRWEB) January 02, 2014
LS Retail, the leading supplier of retail software solutions and services for Microsoft Dynamics will showcase its latest Mobile and eCommerce Retail solutions at the NRF Annual Exhibition, "Retail's BIG Show" at the Jacob K. Javits Convention Center in New York City on January 13-14, 2014.
Retailers have been embracing the power of omni-channel to reach out to their customers. This concerns a wide range of new opportunities: reserving in store, buying online and picking up in store, or online ordering and home delivery programs. The LS Omni solutions provide convenience for customers by allowing purchasing and accepting payment wherever it's convenient for them and provide additional touch-points for active engagement. With the LS Omni mobile solutions, retailers can enhance both operational efficiency and customer experience.
"Customers' shopping preferences are changing drastically, and it is in the retailers' best interest to be there for their customers wherever and whenever the customer feels like shopping," says Magnus Norddahl, CEO at LS Retail. "With LS Omni you can offer multiple touch-points to your customers, and increase your profits; wherever the customer chooses to shop, and thus place your customer at the center of your business."
Visit LS Retail at booth 3381 to learn how dynamic retailers are adapting to an omni-channel environment by leveraging the LS Omni solutions, to link every step of a multi-channel, multi-location retail business. These solutions include:

Mobile POS – improving the in-store personal service experience by accepting any form of payment, anywhere and at any time, from any mobile device
eCommerce - launch a retail store into the world of online shopping, reaching new audiences and selling when and where ever
Mobile loyalty - the mobile phone becomes a mobile loyalty card, rewarding customers, driving new and continuous business
Mobile inventory - extends inventory management to mobile devices that saves hours of staff time and improves store operations
Schedule a Meeting
Meet with the company's experts and top executives, and learn about its top-line mobile solutions for retailers. Schedule a meeting by contacting us at info(at)LSRetail(dot)com.
About NRF – Retail's Big Show
Retail's Big Show, an annual four-day event, is NRF's flagship event, bringing together industry players for unparalleled education, collegial networking, and two EXPO Halls full of technologies and solutions.
Visit http://www.LSRetail.com to learn more about LS Retail's participation in Retail's Big Show 2014 and also for details about its retail software solutions.
About LS Retail
LS Retail is a world-leading provider of comprehensive software solutions and services based on Microsoft Dynamics and Microsoft technology for the retail and hospitality industries.
These scalable solutions manage the very large and complex operational requirements associated with different types of retail and hospitality organizations, such as fashion, electronics, furniture, duty free, restaurants, coffee shops and many more.
What sets LS Retail apart from other solution providers on the market is the unique use of a single application to integrate the entire business from point of sale (POS) terminals through store management, inventory, merchandising, back office, head office, demand planning, business intelligence and omni-channel retailing to management of sales channels, including mobile and e-commerce.
For over two decades, LS Retail has been developing market leading software solutions for retail and hospitality that are currently used by over 46,000 stores worldwide, and are sold and supported by more than 150 certified Microsoft and LS Retail partners in over 60 countries.