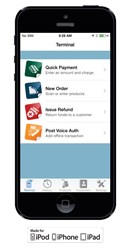 Los Angeles, CA (PRWEB) January 06, 2014
USAePay payment gateway solutions has released version 1.3.2 of the mobile payment app. Available now at the iTunes App Store, the new version includes customization options for your device and improved functionality, accepting credit cards with the USAePay Point of Sale Credit Card Payment System. The update enables this easy application to support your payment processing with a personalized experience processing a sale, refund or creating a full order on your preferred mobile device.
New performance enhancing features of the USAePay iPhone App version 1.3.2 include:

Device specific swipe animations at the loading screen, reminding the user of proper swipe techniques.
Option to save last connected device in the app to ensure quick and easy initialization.
Customer e-mail pre-population from saved customer list.
Updated graphics including new company logo.
These improved and advanced functionality updates were developed with the end user in mind. The USAePay payment mobile payment app makes accepting credit cards through your iPhone simple and secure with built in product database and customizable features. Download the updated mobile payment app version 1.3.2 in the iTunes App Store today.
About USAePay:
USAePay is a family-owned business based in Los Angeles, CA. For over 15 years, the company has been assisting merchants with payment solutions to fit their needs. USAePay's payment gateway supports most of the major platforms in the credit card industry and works with some of the leading check platforms. USAePay is pleased to work with most of the larger merchant service banks in the US and Canada. For more information, please visit http://www.usaepay.com or call 866.USA.EPAY (872-3729).