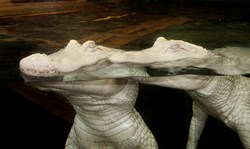 Newport, KY (PRWEB) January 08, 2014
Newport Aquarium, the No. 1 aquarium in the country according to USA Today's 10Best.com, is pleased to announce the return of Winter Family Days, when two children are admitted free with each full-priced adult ticket.*
This family-favorite offer will be available from Jan. 8 through Feb. 28, 2014, during which time the aquarium will open one hour early at 9 a.m. every Saturday and holiday weekend.
Kids will have fun inside our 74-degree climate-controlled facility, no matter the weather outside. At Newport Aquarium there is always more new to see and do:

White Gators – Visit the Rainforest exhibit to see two of the rarest animals in the world – a pair of mystical white American alligators. Snowball and Snowflake are two of less than 100 white alligators in the world and will be at Newport Aquarium through the end of February.
Surrounded by Sharks – Walk through a 385,000-gallon tank filled with four rare and exotic shark rays – the largest collection of shark rays in the world – as well as tiger sharks, zebra sharks, stingrays, and a curious 200-pound loggerhead sea turtle named Denver.
The Frog Bog – Kids have never seen frogs like this before. Kids will see secret frog tanks visible only when they climb through tunnels and tubes in our kids-only Frog Bog jungle gym. The Frog Bog is the largest exhibit of its kind in the Midwest with nearly 20 species of exotic frogs.
Gator Alley – Showcasing eight species of crocodilians from four continents, Gator Alley is one of the most diverse collections of crocodilian species in the country. It's also the home of Mighty Mike – who at 14-feet long and 800 pounds is the biggest and baddest alligator in the country outside of Florida.
Jellyfish Gallery – Marvel at the largest and coolest jellyfish exhibit in the Midwest, and be mesmerized and amazed by more than one hundred jellyfish.
Kroger Penguin Palooza – With five different species, it boasts one of the most diverse collections of cold-weather penguins in the country.
Newport Aquarium is located in Newport, Ky. across the Ohio River from Cincinnati, Ohio. Newport Aquarium was named a 2013 top U.S. aquarium by Travel Channel. A top tri-state destination, the state-of-the-art facility is an accredited member of the Association of Zoos & Aquariums (AZA), a leader in global wildlife conservation.
Beginning Jan. 6, Winter Family Days tickets will be available at our ticket window, through our website, http://www.NewportAquarium.com, or through our toll-free phone number, 1-800-406-FISH (3474).
*This special offer cannot be combined with other discounts or coupons.