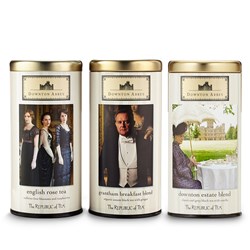 Novato, CA (PRWEB) January 06, 2014
The Republic of Tea, leading purveyor of premium teas, is proud to announce the launch of its new Downton Abbey® inspired teas. Each of these all natural calorie-free, gluten-free teas are inspired by the award-winning TV series that has entranced millions of viewers and become a global phenomenon. The three delicious flavors are: English Rose Tea, Downton Estate Blend and Grantham Breakfast Blend.
Downton Abbey is home to the aristocratic Crawley family and their servants. The first two seasons follow their lives from the sinking of the Titanic in 1912 through the First World War while the later seasons follow them into the early 1920s. The show saw record-breaking viewership for its third season and has been watched by 120 million people around the world to date.
The Republic of Tea's line of Downton Abbey inspired teas can be served hot or over a tall glass of ice:
English Rose Tea – This vibrant, ruby-red infusion of rose, raspberry and hibiscus has fruity, floral notes and a touch of sweetness. Inspired by traditional British desserts, this caffeine-free luscious tea is perfect for an afternoon treat.
Downton Estate Blend – Earl Grey black tea has become one of the most enjoyed flavored teas in the world. This classic traditional British tea with bergamot orange oil has been paired with exotic vanilla for an intriguing finish available exclusively at Cost Plus World Market.
Grantham Breakfast Blend – Full-bodied malty, organic Assam black tea is infused with the spicy flavor of organic ginger root. This energizing tea is perfect for preparing for the dramas of the day.
Each of these all natural premium teas are certified gluten free; Grantham Breakfast also is Certified Organic by Quality Assurance International and the United States Department of Agriculture (USDA). Each comes in colorful tins featuring beloved Downton Abbey characters and holds 36 round, unbleached tea bags free of tags, strings and staples.
English Rose Tea and Grantham Breakfast retail for $12.00 through the company website (http://www.REPUBLICofTEA.com), mail-order catalogue and by calling 800.298.4TEA (4832). They are also available at Embassies (retailers) nationwide. Downton Estate is now available for purchase at Cost Plus World Market locations nationwide.
# # #
About Downton Abbey:
Downton Abbey is a Primetime Emmy™ and Golden Globe™ award-winning British television series produced by Carnival Films, part of NBCUniversal International Television Production. The popular period drama is screened in the U.S. on PBS/MASTERPIECE and is transmitted to more than 200 other territories around the world. Downton Abbey's third season drew 24 million U.S. viewers and its season finale earned an 8.1 rating to top everything else on broadcast or cable television that night (February 17, 2013). Downton Abbey is set to return to PBS with the Season 4 premiere in January 2014.
About The Republic of Tea:
The Republic of Tea enriches people's lives through its premium teas, education and innovation, as it emphasizes a "Sip by Sip Rather Than Gulp by Gulp" lifestyle. Founded in 1992, The Republic of Tea sparked a specialty tea revolution. Today the brand offers an unequaled selection of the highest-quality teas, herbal blends, books and nature-inspired sip ware, available exclusively at specialty retailers throughout the U.S. Further, The Republic of Tea is mindful of how its actions impact the greater community and actively supports worthy organizations like the Whole Planet Foundation, the Prostate Cancer Foundation, Room to Read, Action Against Hunger, The Ethical Tea Partnership, Rainforest Alliance certification and Non-GMO Project verification. For more information, please visit http://www.REPUBLICofTEA.com or call 1.800.298.4832. Follow The Republic of Tea on Twitter at twitter.com/republicoftea and Like us on Facebook at http://www.facebook.com/RepublicofTea.
Media contact: Beth Parent, Minister of Enlightenment, The Republic of Tea, 802.863.3929, beth(at)republicoftea(dot)com
5 Hamilton Landing, Suite 100, Novato, CA 94949 ~ Tel 415.382.3400 ~ Fax 415.382.3401 ~ http://www.REPUBLICofTEA.com