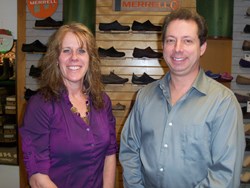 We are very honored to receive this award.
Bennington, VT (PRWEB) January 07, 2014
Family Footwear Center is proud to announce they have been awarded New England Retailer of the Year 2014 by the Boston Shoe Travelers Association (BSTA), a leading industry trade group. Criteria for nomination include outstanding achievements in the following categories: business growth, community involvement, customer service, and other special achievements.
Organized in 1901, BSTA is the oldest regional shoe travelers association in the United States and represents more than 250 sales representatives and 600 lines of footwear and accessories. BSTA began giving away the award in 2001, making Family Footwear Center the 14th recipient of Retailer of the Year.
"We are very honored to receive this award," said Scott Feathers, owner of Family Footwear Center. "As a privately owned business, our mission is to provide top quality brands, backed by unsurpassed customer service. We are proud to say the least."
Family Footwear Center is one of New England's largest footwear retailers, with headquarters in Bennington, Vt. and five retail locations in Bennington and Manchester, Vt., Lenox, Mass., Troy and Lake George, N.Y.
"The committee unanimously selected Family Footwear Center," said Steve Perry, president of the BSTA. "We look for a recipient who has consistently shown improvements to better their business in the footwear industry. This includes everything from their store layout to their website and Family Footwear Center has certainly done that."
The BSTA Retailer of the Year award is a great achievement for Family Footwear Center, who recently celebrated their 21st anniversary of being in business. "We would like to thank our employees, valued customers and the BSTA for all their support. This would not have been possible without you," said Feathers.
In February, Family Footwear Center will be honored at the Northeast Shoe Expo, which is held at the Radisson Hotel, located in Manchester, N.H.
About Family Footwear Center Inc.
In 1992, Family Footwear Center opened its first retail store in Bennington, VT, to provide quality footwear for the entire family from the most reliable brands in the market. Since then, the company has expanded to four store locations in Vermont, Massachusetts and New York, with a corporate headquarters in the picturesque foothills of southern Vermont's Green Mountains. In 2009, Family Footwear Center launched an ecommerce website in an effort to bring services and products to a broader range of customers. The company has since received numerous awards in the footwear industry and has been featured in Footwear News, an industry-leading publication.