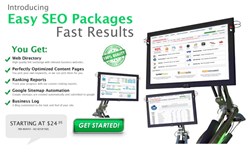 "This company has helped me go from working a regular 9-5 to being self employed making more money than I can imagine working from home spending time with my kids!"- Jake Mosteller
(PRWEB) January 07, 2014
Blackwood Productions, a leader among SEO companies, has published what they feel will be important Internet marketing trends for 2014. Leading the list, not surprisingly, is an increase in mobile-friendly content. The entire list includes:
1. Even more mobile friendly content. Expect the trend towards mobile-friendly content to continue into 2014, according to Blackwood Productions. According to a recent study by Pew Internet, 63 percent of Americans use a mobile device to access the Internet, and 34 percent of those web surfers use their mobile device exclusively. This means that companies need to make sure that their content is legible and attractive on small screens as well as large ones or risk losing customers.
2. Content is still king. According to Social Marketing B2B, companies that have a blog in conjunction with their website generate 67 percent more leads than companies without a blog. However, "if you want to be on the first page of Google," advises Blackwood Productions CEO, Robert Bibb. "You can't just publish tired, duplicate content. You need content that's fresh, interesting and that establishes your company as an authority in your field."
3. More geo-targeted content. As more and more web users are accessing the Internet via mobile devices, companies and advertisers have the ability to target content and ads to the geographic location reported by their phones. For instance, if a person is driving into Richmond, Virginia, he'll automatically be directed towards restaurants, hotels and retailers in that area. Although users can turn off the GPS function, a 2012 study by London-based TNS Global found that 67 percent of mobile users welcome geo-based content. Blackwood feels that trend will continue to grow in 2014.
4. Videos and images rule. Blackwood Productions points to the info graphic produced by the Jenkins Group that's been circulating on Facebook the last few weeks, stating that only 30 percent of American consumers have visited a bookstore in the last year and 33 percent of high school graduates and 42 percent of college graduates never pick up a book after they leave school. They emphasize that ours is clearly a visual, more than a textual society and advise Internet marketers to look for more and more videos, images and info graphics to highlight written content and even replace words altogether.
About Blackwood Productions
Blackwood Productions is a leading creator of cutting-edge Internet marketing tools. In business for more than a decade, the San Clemente, California-based company offers a full range of Internet tools, content and strategies to help companies get the best return on their Internet marketing investment. Blackwood Productions is more than a SEO company; they are a SEO partner.