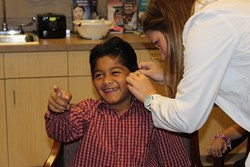 "With generous donations from companies like MicroSeismic, children who have fallen through the cracks now can overcome obstacles resulting from hearing impairment."- Dr. Soham Roy, Children's Memorial Hermann Hospital & UTHealth Medical School
Houston, TX (PRWEB) January 07, 2014
Thanks to a generous $50,000 gift, MicroSeismic, Inc. will help Children's Memorial Hermann Hospital and the department of Otorhinolaryngology at UTHealth Medical School provide hearing aids to a number of underprivileged pediatric patients in the greater Houston area this January and for many months to come.
"With the cost of hearing aids starting at around $1,000, many families are unable to afford the medical cost to correct their child's hearing," said Soham Roy, M.D., director of pediatric otorhinolaryngology for Children's Memorial Hermann Hospital and associate professor at UTHealth Medical School. "Hearing loss can have a detrimental impact on a child's development, affecting speech and language skills and leading to possible learning problems, social isolation and poor self-esteem. Fortunately, with generous donations from companies like MicroSeismic, children who have fallen through the cracks now can overcome obstacles resulting from hearing impairment."
As the leading provider of microseismic-based completions evaluation services for unconventional drilling, MicroSeismic is a company that understands the importance of sound clarity. MicroSeismic comes from the word microseism, which is defined as a feeble, recurrent vibration of the ground recorded by seismographs.
"Our success as a company depends on our ability to listen to the sounds of the earth," said Peter Duncan, Ph.D., founder and CEO of MicroSeismic. "A child's road to success is made easier by his or her ability to listen to the world around them. Our mission aligns so well with the hopes of these children, that this is the perfect opportunity for MicroSeismic to give back."
The first complimentary hearing aid recipient was 7-year-old Victor Herrera. Victor had worn a hearing aid for many years until it was stolen several months ago. This grant allows Victor's family to replace the device he so importantly needs to be able to hear. Victor was fitted for the top-of-the-line hearing aid in early December and received the device on December 27, just in time for the New Year.
"This is really going to benefit my son," said Victor's mother, Priscilla Herrera. "We are very grateful for this generous gift from Children's Memorial Hermann Hospital and MicroSeismic. It will help him so much when he goes back to school this month. And, I'm really excited that I don't have to yell anymore!"
The Memorial Hermann Foundation is proud to partner with MicroSeismic to bring the gift of hearing to children in need throughout the Houston community. This is the first donation of its kind, specifically allocated to hearing aids, to Children's Memorial Hermann Hospital.