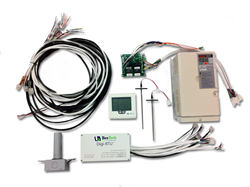 This study, done by Burlington Electric and Efficiency Vermont, validates the energy savings the Digi-RTU can achieve. We are pleased the Digi-RTU continues to perform as expected, says Bruce Geary, VP Sales and Marketing for Bes–Tech.
Omaha, NE (PRWEB) January 07, 2014
Bes-Tech, developer of the Digi-RTU, the most innovative and energy efficient aftermarket rooftop HVAC unit control package on the market, announce electrical energy savings of 65% and 68% during an independent energy study by Efficiency Vermont, with additional funding support contributed by the Burlington Electric Department.
Burlington Electric partnered with a local contractor and Vermont Energy Investment Corporation, a tenant in a 51,000 square foot office building located in Burlington, Vermont. The study results reported metered and calculated electrical savings of 65%.
Efficiency Vermont partnered with a local contractor and Vermont Country Store; a 170,000 square foot retail distribution center located in North Clarendon, Vermont. The study results reported metered and calculated electrical savings of 68%.
For each building, one rooftop unit was metered for two weeks before the Digi-RTU was installed and metered for two weeks after the Digi-RTU was installed. Measurement and verification activities as well as analysis were managed by Efficiency Vermont.
The Digi-RTU, winner of the 2011 American Public Power Association's DEED Energy Innovator Award, is the most innovative and energy efficient rooftop HVAC unit control package on the market. The Digi-RTU has a proven track record of reducing energy consumption and demand by up to 65% with a typical ROI of 1 to 3 years. The Digi-RTU is a simple plug-n-save solution for existing RTU which allows building owners to increase efficiency of older rooftop units without the expense of replacing them.

Reduced electricity consumption up to 65%
Reduced peak electricity demand up to 65%
Reduced compressor on/off cycling up to 75%
Improved equipment life span
Reduced equipment noise
Improved temperature and humidity control
Improved CO2 based (greenhouse gas) demand control
The Digi-RTU is the only product on the market that addresses each area identified by the Pacific Northwest National Laboratory (PNNL) to maximize electricity consumption and demand reduction. The Digi-RTU integrates with the existing economizer, modulates the supply fan, modulates the compressor speed, and regulates the indoor air CO2 level. By intercepting heating and cooling calls, the Digi-RTU's patented technology manages the compressor and fan speeds to match the space requirements. As a result space temperature and humidity are best managed.
About Bes-Tech
Bes-Tech has been a leader in energy efficient building systems technologies for the past nine years. The company was founded on proven scientific engineering processes and technologies that reduce peak energy demand, minimize energy usage, and maximize energy efficiency. We actively work to lower the carbon footprint of the built environment. Call us at 402-502.2340 or visit http://www.bes-tech.net.
About Efficiency Vermont
Efficiency Vermont, one of Vermont's two electrical energy efficiency utilities appointed by the Vermont Public Service Board, helps Vermonters to reduce energy costs, strengthen the local economy, and protect the environment by making homes and businesses energy efficient.
Efficiency Vermont provides technical assistance, rebates, and other financial incentives to help Vermont households and businesses reduce their energy costs with energy-efficient equipment, lighting, and approaches to construction and major renovation. Additionally, they partner extensively with contractors, suppliers, and retailers of efficient products and services throughout the state. Efficiency Vermont works with a variety of equipment manufacturers and vendors to provide Vermont rate payers with efficiency solutions. It does not endorse individual products or guarantee their performance.
About Burlington Electric
As a municipal department of the City of Burlington, BED also serves as the energy efficiency utility for Burlington and is charged with helping its customers to reduce energy costs. BED also provides technical assistance, rebates, and other financial incentives to help Vermont households and businesses reduce their energy costs