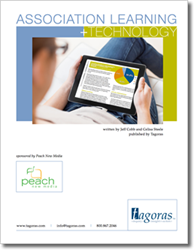 The vast majority of organizations characterize their efforts to use technology enhanced or enabled learning as either somewhat successful or very successful.
Carrboro, NC (PRWEB) January 07, 2014
A new report released by Tagoras, a consulting firm specializing in the global market for lifelong learning, provides detailed data and insights on how trade and professional associations are using technology in their continuing education and professional development programs. Sponsored by Peach New Media and titled Associations Learning + Technology 2014, the report draws on responses from 200 participants in a survey conducted by Tagoras in fall 2013.
The report can be downloaded (no payment or e-mail address required) at:
http://www.tagoras.com/download/5209.
***
Some of the key findings include:
***Nearly all associations use some form of learning technology***
88.7 percent of respondents indicated their organization already offers technology-enabled or technology-enhanced learning. Another 10.6 percent said they plan to within the coming 12 months.
***Webinars still dominate the landscape***
Webinars have traditionally been the main form of technology-enabled learning preferred by associations, and that remains true. Over 80 percent of survey respondents using technology for learning said they offer recorded (i.e., on-demand) and real-time (i.e., live) Webinars or Webcasts. [Self-paced online courses, at 65.5 percent, was the only other format that came close to Webinars.]
***Associations slow to embrace more sophisticated options***
Only 31.4 percent report doing blending learning, an approach that typically combines classroom-based and online learning. Less than 10 percent of respondents indicated that have experimented with trending new options like massive open online courses (MOOCs), digital badges, flipped classrooms, or gamification.
***Significant growth in learning management system (LMS) usage***
Just over half of respondents (51 percent) reported using a learning management system (LMS) to deliver and manage education up from the 39.7 percent of respondents who reported using either an LMS or a learning content management system (LCMS) in the 2010 edition of the Tagoras survey.
***Most organization report success – including an increase in revenue***
The vast majority of organizations characterize their efforts to use technology enhanced or enabled learning as either somewhat successful (66.7 percent) or very successful (19.1 percent). The majority (51.7 percent) also say that use of technology for learning has increased their organization's net revenue from educational offerings.
###
Tagoras provides expert strategy, marketing, and technology guidance to organizations in the business of continuing education and professional development. Its consulting clients have included the American Institute of Public Accountants, the American Physical Therapy Association, the Healthcare Financial Management Association, the National Institute of Governmental Purchasing, the Society of Critical Care Medicine, and Castle Worldwide. Its research publications include Association Learning Management Systems, Association Learning + Technology, and Association Virtual Events. For more information visit http://www.tagoras.com.
Peach New Media, Inc. (PNM) is a leader in online knowledge sharing for associations. The "Peaches" at PNM believe that telling stories, providing access to experts and mentors within an industry is a key calling for associations. Serving associations and continuing education providers since 2001, Peach has worked with over 250 professional associations to provide on-going support, professional services, and technology to enable these associations to reach "more people with more content." For more information, visit http://www.PeachNewMedia.com.