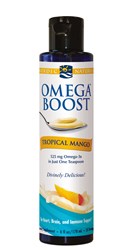 Because of its appealing formulation and taste, Omega Boost is a product that is great for the whole family.
Watsonville, CA (PRWEB) January 07, 2014
What's velvety smooth, tastes like tropical mangos, and provides omega-3s the whole family will love? Omega Boost, the latest innovation from Nordic Naturals, the #1 fish oil in the U.S!
Omega Boost is a delicious way for adults and children to enjoy 525 mg of omega-3s in just one tasty teaspoon. Sugar-free and sweetened with xylitol, Omega Boost is made from purified fish oil from anchovies and sardines, and offers fast absorption of the important omega-3 fats EPA and DHA. Each 6-oz. bottle contains 35 servings, and has a convenient flip cap for easy pouring.
Omega Boost supports heart, brain, and mood health along with healthy immune function. A vast body of research—including over 8,000 clinical studies from researchers around the globe—supports not only the important health benefits of omega-3s, but also reveals a worldwide deficiency of these essential nutrients, even among people who eat generally healthy diets.
"We are committed to correcting the global omega-3 deficiency by supplying pure, fresh, and effective omega-3 supplements in a wide variety of delivery systems, offering something for every palate and lifestyle," said Dr. Keri Marshall, Nordic Naturals Chief Medical Officer. "Because of its appealing formulation and taste, Omega Boost is a product that is great for the whole family. It can be taken by the spoonful or added to a smoothie."
Every batch of Nordic Naturals fish oils is third-party tested for environmental toxins, including heavy metals such as mercury, dioxins and PCBs. All fish oils used in Nordic Naturals products are in the triglyceride form and surpass the strictest international standards for purity and freshness. The company offers certificates of analysis upon request.
Based in Watsonville, CA, Nordic Naturals is committed to delivering the world's safest, most effective omega oils to help further its mission of correcting the global omega-3 deficiency. Distributing to more than 35 countries, Nordic Naturals offers over 150 products in a variety of flavors and formulations for adults, kids, athletes, and pets. As the number one fish oil in the United States, Nordic Naturals has revolutionized omega-3s, pioneering a new definition of fish oil quality as it relates to purity, freshness, taste, and dosage.
Further information is available at http://www.nordicnaturals.com.