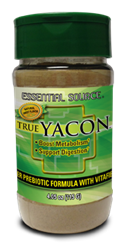 True Yacon can be used as a natural sweetener, that also promotes weight loss.
Phoenix, AZ (PRWEB) January 07, 2014
Numerous studies indicate that the average American experiences one to two pounds of weight gain during the holidays. The holidays, poor diet, and lack of exercise have all contributed to an astounding 68% obesity rate in our country, leading millions of consumers to make weight loss their number one New Year's Resolution.
Yacon is a naturally sweet tasting, low-calorie prebiotic that supports healthy weight loss, according to numerous clinical studies. The team at Essential Source combined organic Yacon powder with VitaFiber, a naturally sweet and soluble dietary fiber, which also possesses prebiotic qualities.
Prebiotics assist by controlling the flora, sometimes called "skinny bacteria", in the intestinal system. Scientific studies indicate that VitaFiber also helps maintain healthy cholesterol levels, healthy blood sugar levels, has a low Glycemic Index (GI), and assists with mineral absorption.
Justin Zehrung, Vice President of Essential Source stated, "Millions of consumers already use low-calorie sweeteners in their food and drinks in order to avoid adding empty calories to their diet. True Yacon can be used as a natural sweetener, that also helps promote weight loss."
True Yacon can be purchased at health food stores, pharmacies, and naturopathic doctor's offices across the country. For a store near you, contact Essential Source's Consumer Referral Department toll-free at (877)879-9966 or via the store locator available on the company's website http://www.EssentialSource.net.
Essential Source, Inc. is the maker of specialized health and beauty products and is dedicated to the research and development of convenient supplement delivery methods, while increasing the overall effectiveness of nutritional supplements as a whole.