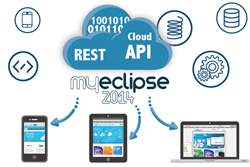 Market-leading wizards now give Eclipse IDE developers the ability to simply consume Cloud APIs for development into apps for mobile, web, cloud and desktop with ease.
Dallas, TX (PRWEB) January 07, 2014
Genuitec, LLC, the leading Cloud Control and Eclipse company, is proud to announce the full integration of Cloud APIs and enhanced REST Services in MyEclipse 2014 workbench. Market-leading wizards now give Eclipse IDE developers the ability to simply consume Cloud APIs for development into apps for mobile, web, cloud and desktop with ease.
"MyEclipse 2014 adds automation in the form of wizards to the REST API process, letting our customers quickly obtain and develop cloud-based code," said Brian Fernandes, product manager for MyEclipse at Genuitec. "Now customers can expose Cloud API's and with Genuitec's special blend of features and tools, quickly make applications that are both cross-platform and cross-medium for Internet consumption."
Developers today are tasked to develop applications for all mediums - desktop, mobile, web and cloud. MyEclipse 2014 provides enterprise developers with a modern application development platform that gives users an opportunity to meet those demands simply and efficiently with the help of its cloud based services and ability to easily create Cloud APIs.
Using simple right-click automation and an added level of intelligence, MyEclipse 2014's REST Facade Generation Wizard makes it simple to consume Cloud APIs and instantly expose code for further development. Developers can generate REST facades from existing JPA entities with a click of a button and avoiding generous amounts of coding by hand.
Previous builds of MyEclipse gave developers limited support of REST services; however the new MyEclipse 2014 workbench has made substantial updates to these services, letting our developers quickly manipulate JAX-RS code and benefit from the vast amount of other tools, features, and frameworks available in MyEclipse. Simply put, MyEclipse 2014 makes it easy for developers to craft the code they need, use MyEclipse developer automation technology and Genuitec Mobile Tools to make apps instantly ready for cross-platform and cross-medium consumption at a fraction of the time and cost of our competitors.
Subscriptions to MyEclipse start at $32 annually with options for advanced add-ons available, including WebSphere and Spring connectors, and enterprise management options. For a detailed look at all MyEclipse options, please review our Features page. All MyEclipse 2014 editions are available at: http://www.myeclipseide.com, and come with a free 30-day trial. Free trial users and those with current subscriptions receive all updates at no cost; enhanced service agreements are now available and vary in cost.
About Genuitec
With year-over-year growth since the company was founded in 1997, Genuitec follows a "Cloud Control" approach and continues to expand by offering superior products to enterprises at value-driven prices. With a laser focus on mobile development for the enterprise Java user, its products are used by more than 17,000 global enterprises which include 80 percent of Fortune 500 companies.
Genuitec maintains a vibrant community through its support forums where users engage directly with staff to answer any number of technical needs. Genuitec is constantly evaluating market opportunities for new areas of growth and expansion of its current application life-cycle management and mobile tools; in addition, Genuitec has launched a new product in each of the last 5 years. As a fully-distributed and virtual workforce, the company maintains a low overhead, yet attracts the most talented software developers.
Genuitec is based in Flower Mound, Texas and is founding member of the Eclipse Foundation along with IBM, Intel and HP.
Please follow Genuitec's latest news by joining "MyEclipse" on Facebook and on Twitter @MyEclipseIDE and @Genuitec.